Toonami and Production IG have just released a new trailer for the two new seasons of FLCL, titled FLCL Progressive for season 2 and FLCL Alternative for season 3, which you can see on the YouTube video above. Toonami has also announced that FLCL Progressive will be premiering on the block in June, while FLCL Alternative will premiere on September. The exact date and time-slots are still to be announced.
Update 3/20 @ 10:50 am PDT: We have received confirmation from Jason DeMarco that FLCL Progressive now has a confirmed time-slot, Saturday June 2nd @ 11:30pm EDT. While Ghost In The Shell: SAC 2nd GIG will be completing its current run around that time by our estimations, it is not been confirmed if it will replace it on the lineup or if an expansion is in the cards. The exact date on when FLCL Alternative will air is also still to be announced.
The trailer showcases a new track by The Pillows, who will be returning to create the soundtrack for the revival. While the full cast is still to be announced, Kari Wahlgren will be reprising her role as Haruko.
IT'S OFFICIAL: I'm coming back as Haruko for the @FLCL_USA sequels!!!!! #flcl2 #flcl3 #adultswim #productionig #toonami pic.twitter.com/7J5qpGOXm0

— Kari Wahlgren (@KariWahlgren) March 20, 2018
Additional details regarding the new seasons will be revealed at the Chicago Comic and Entertainment Expo (C2E2) on Friday, April 6 with Jason DeMarco, Maki Terashima-Furuta, Mitsuhisa Ishikawa, and Kari Wahlgren headlining the panel. For those who plan on attending in Chicago, the panel will take place in Main Stage S406 from 5:45 PM – 6:45 PM.
In addition, for those that missed it, Toonami had also released an artwork for the revival by Yoshiyuki Sadamoto, the original character designer for FLCL season 1.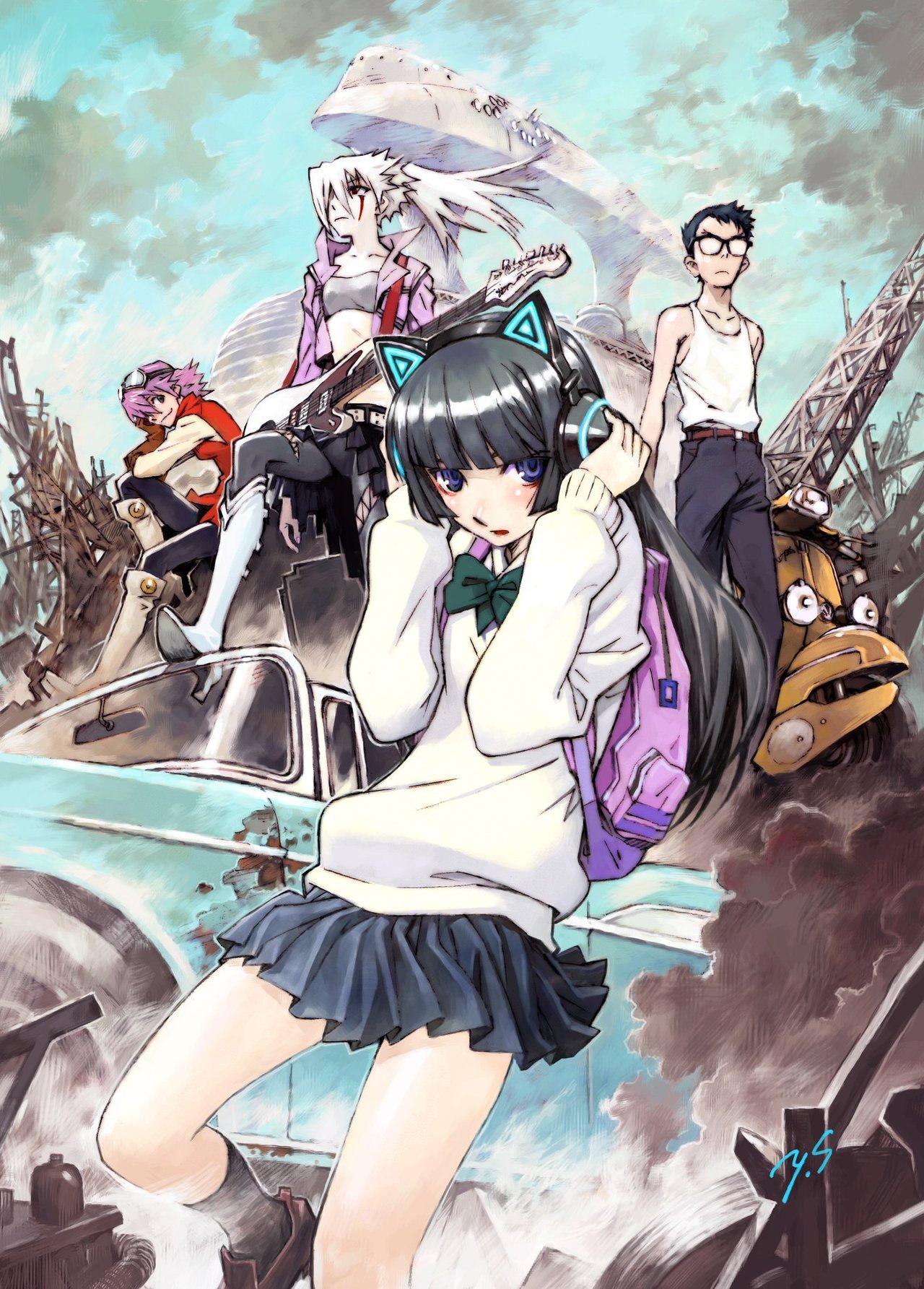 ---
Update 3/20 @ 12:43 pm: Adult Swim and Production IG has also released a press release, which you can see below: (via Joshua Mathieu/ToonamiSquad)
New Seasons of Anime Hit Series FLCL Crash Land This Summer on Toonami
Adult Swim and Production IG Co-Produce Sequels With Original Cast/Creators
More than 15 years since its original launch in Japan, Adult Swim and Production IG will premiere two new seasons of one of the most insane anime ever created, FLCL Progressive starting on Saturday, June 2nd at 11:30 p.m. (ET/PT) and FLCL Alternative in September. Debuting on Adult Swim's popular anime block Toonami, the new seasons bring together members of the original animation team with a whole new generation of creators.
"FLCL has always been a personal favorite of mine, and having the opportunity to work with Production IG on these new seasons has been a dream come true," said Jason DeMarco, senior vice president/creative director for on-air at Adult Swim.
Up first, FLCL: Progressive tells the story of 14-year-old Hidomi, her classmate Ide, and two otherworldly beings, "Jinyu" and "Haruha Raharu," who are determined to unlock their hidden potential. Mixed up in this is an all-powerful force known as "ATOMSK," a gorgeous vintage car… and a certain Vespa Scooter.
Following FLCL: Progressive will be another new season, FLCL: Alternative, which hands the series over to a totally different team of young creators who will redefine the meaning of "sequel." The series centers on the misadventures of 17-year-old Kana, a high school junior who spends her days hanging out with her besties, Mossan, Hijiri, and Pets. They live unremarkable lives, until the day a Mecha falls out of the sky, along with a strange woman named "Haruko." Her plans for Kana and her friends involve the force known as "ATOMSK." Kana will have to risk everything to decide whether or not to help… like she really has a choice!
Returning to reprise her role as the enigmatic "Haruko" is talented voice actress Kari Wahlgren (Rick and Morty, Teen Titans) and both seasons will feature original music from Japanese alternative rock band The Pillows. FLCL: Progressive and Alternative are co-produced by Adult Swim and Production IG.
---
What are your thoughts on the recent news? Let us know by commenting blow or directly on our social media.