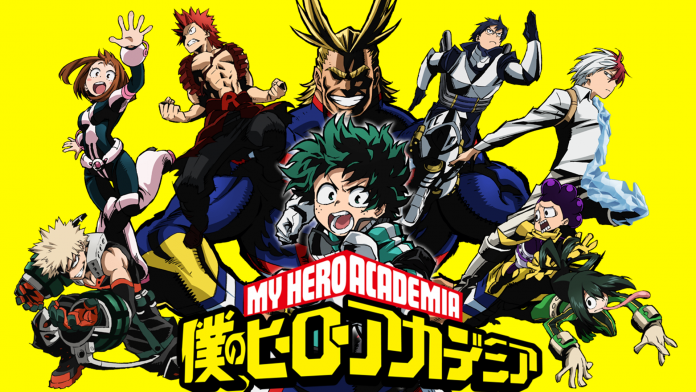 In an event that many fans have been waiting for for the past two years, Toonami has announced that the smash hit anime series My Hero Academia will finally be joining the lineup, beginning on May 5 at 11:30 pm ET/PT. MHA will replace Gundam IBO on the lineup as the series has only 2 episodes left to air as of this writing. There will be some additional changes to the schedule, with FLCL being moved to 12:00 am at least in the interm, while Hunter x Hunter and Black Clover will switch timeslots, now airing on 1 am and 1:30 am respectively.
💥🔥#MYHEROACADEMIA IS COMING TO #TOONAMI 🔥💥

5/5, 11:30pm ET pic.twitter.com/esZnjXJHKP

— Funimation (@FUNimation) April 19, 2018
Similar to the respective success of the likes of Sword Art Online, Attack on Titan, One Punch Man, JoJo's Bizarre Adventure, and Dragon Ball Super before it, My Hero Academia has grown to be one of this decades' most popular and well acclaimed anime franchises. With large streaming views on Crunchyroll, FUNimation Now, and Hulu, and high DVD/Blu-ray and manga sales, it comes as no surprise that MHA has become one of Toonami's most requested shows. My Hero Academia has just recently begun premiering season 3 this month in Japan and on the above mentioned streaming sites, and Toonami plans on showcasing all three seasons beginning from episode 1.
Back in December 2017, Jason DeMarco has mentioned that acquiring MHA was not possible at the time due to competitors grabbing exclusivity to the premiere rights among other things we're not privy to. Because of this, it wasn't until now that Toonami was able to grab this show.
For those new to the franchise, the summary (via ANN) is as follows:
"Mankind has developed superpowers known as "Quirks" with 80% of the population having some kind of superpower. These new abilities see the rise of both superheroes and villains. A prestigious school known as the The Hero Academy trains superpowered hopefuls into the heroes the world needs. Middle school student Izuku Midoriya wants to be a hero more than anything, but he's part the 20% without a Quirk. Unwilling to give up his dream, he plans to take the exam and be accepted into a high school for budding heroes. Through a series of serendipitous events, he catches the eye of the greatest hero, All Might, who agrees to train him."
Below is the reveal trailer FUNimation has posted for the series back in 2016. A Toonami trailer is coming soon.
What are your thoughts of My Hero Academia finally reaching the better cartoon show? Let us know by commenting blow or directly on our social media.