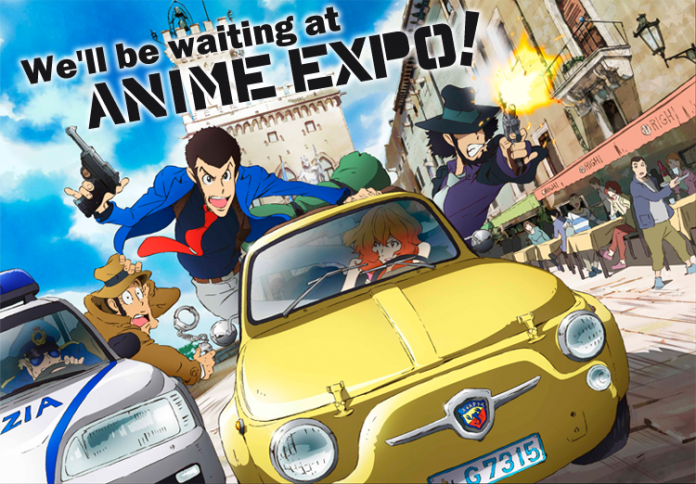 Toonami Faithful learned on Wednesday (the same day we recorded a Toonami Faithful Podcast episode that's yet to be released) that Anime Expo will host a Lupin the 3rd screening at the convention. On Monday, July 3, TMS Entertainment USA will premiere a never before seen (in the U.S.) TV special titled Lupin the 3rd: Italian Game. The synopsis of the special is as followed.
In The Italian Game, Lupin investigates the kidnapping of his estranged wife, Italian millionaire and celebrity, Rebecca Rosselini, who still carries his name. But when Lupin arrives in Italy to rescue her, he finds himself drawn into a game with an unknown enemy when he is issued a challenge by the Masked Count: find the inheritance of the Count of Cagliostro. To complicate matters, Lupin's nemesis Inspector Zenigata arrives in Italy to arrest Lupin, as well as M16 Agent Nyx who is after the Masked Count as well.  With all the players in place, the Italian Game begins…but who will be the winner?
According to ANN, this special aired in 2016 as a companion to the Lupin III: Part IV series. Toonami Faithful will be going to the premiere to give all the details they can.
TMS Entertainment USA also announced that there will be a t-shirts giveaway at the screening and that the shirts will feature art from character designer Hisao Yokobori. Along with the festivities at Anime Expo, TMS will also be rolling out a Lupin the 3rd website (www.lupin-3rd.net/en/) to celebrate the franchise's 50th anniversary.
Are you excited about this latest development? Tell us how you feel in the comment section.
Source: TMS Entertainment USA Press Release
C.J Maffris is an editorial writer for Toonamifaithful.com. Feel free to follow C.J to see what's going on at Anime Expo coming this July @SeaJayMaffris