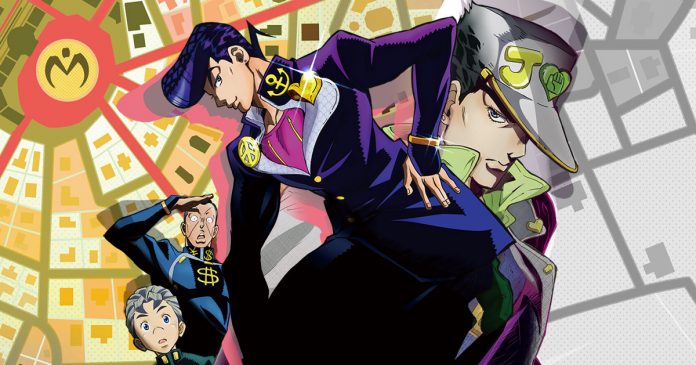 There are a few shows that are synonymous with Toonami. A few that come to mind are Dragon Ball Z, Naruto, and Gundam Wing. But another show has become a huge favorite. That would be JoJo's Bizarre Adventure. Diamond is Unbreakable will be premiering on the block this Saturday, and later in the fall, Part Five (Golden Wind) will get its debut in Japan! It's been quite a ride with the franchise, and as of now, I cannot think of Adult Swim's Toonami without immediately thinking of JoJo's Bizarre Adventure.
TOMORROW NIGHT! Don't miss the premiere of #JojosBizarreAdventure : #DiamondIsUnbreakable on @AdultSwim's #Toonami at 12:30AM! Can't wait for everyone to see how amazing this show sounds with such an amazing cast & crew! @BillyKametz @VIZMedia @adultswim @ToonamiNews pic.twitter.com/ToJBvirTxD

— Bang Zoom! (@BangZoom) August 17, 2018
At first, things looked rather dire for the property. Before VIZ Media swooped in to save it the first two parts were released by Warner Brothers. I was happy that they even commissioned an English dub, considering they aren't known for releasing anime. Sadly, the release left a lot to be desired. Minimal effort was put into the production of the box set (not the dub itself), and left many wondering what the fate of JoJo would be. Some wondered if the cult favorite would ever get a chance to blow up in the west or blossom into a mega-hit if it didn't sell well. Therefore, why would Warner Brothers dub any more parts? Thankfully, all of that worry is in the past, and the airwaves have been littered with all kinds of JoJo references.
What's more important is that Toonami saw value in the property before they were able to showcase the beloved Part Three Stardust Crusaders. I'm pretty sure that it was that particular season that fans were requesting, considering how well known it has become. Stardust Crusaders is viewed as the series that got JoJo a ton of attention in the west. I can only imagine the number of people who were turned off by the slower paced (and less bizarre) seasons before Stardust Crusaders. They were mundane (by JoJo standards) and I can understand if anyone wondered why this series is as popular as it is. However, now that we have Diamond is Unbreakable coming, the craziness will only get better!
There is a different feel to the dub premiere of Diamond is Unbreakable compared to other JoJo seasons. There is no way that any regular audience member knows how it will sound, unlike Parts One and Two and the earlier episodes of Part Three. And I'm excited to hear Billy Kametz is getting a lead role in a popular series. While he's been in other projects, he'll be a new voice for the Toonami crowd. This makes Diamond is Unbreakable more of a must-see series, since we know so little about the dub.
So excited to finally be able to talk about it!!! I'll be voicing Josuke in Jojo's Bizarre Adventure – Diamond is Unbreakable!! Thanks so much to the crew at @BangZoom, @mummynyan, @VIZMedia, and all the fans who have already reached out! It'll be on Toonami Aug 18th! pic.twitter.com/xZIIk2qjfO

— Billy Kametz (@BillyKametz) July 9, 2018
With its longevity, I wonder what JoJo's overall legacy is with Toonami. The block will get another 39 weeks of new JoJo content, and with Golden Wind in production, I can only assume that Toonami will look to pick up that title when an English dub is ready. That would give fans potentially a total of more than 150 episodes that will air if Golden Wind does indeed invade Toonami at a later date (113 is the total after Diamond is Unbreakable ends). While that total is lower than Hunter x Hunter, I still look at JoJo having a more lasting impact. And there are still more parts to be adapted into an anime. Even when fans get a break from JoJo, between Diamond is Unbreakable and Golden Wind, most fans know that it will be returning, providing a positive outlook for the franchise's future. It's still a hot property, based on how packed the debut of Golden Wind was at Anime Expo, and I don't see it dying down soon.
What makes JoJo a genuinely unique series is how Hirohiko Araki tells the story. I've always been fascinated with the plot and how we follow the Joestar family tree at different points in time. It's not something I'm used to, and I think a lot of Toonami fans find it different and refreshing compared to typical shōnen story telling. And the powers that were created in this franchise are just out of this world. Stands is one of the coolest things I've ever seen in an anime (not to mention how great the names are). But it's due to these wild concepts that make me view JoJo as something different from a lot of anime series.
I wonder how the hardcore JoJo fans feel about the series getting some mainstream spotlight on Toonami. JoJo was always a show that many fans would talk about but keep it hidden. You had to "get" JoJo to truly appreciate it (from my dealings with fans before it was on Toonami). I've heard many times how this series would be the one to save anime (something you hear with Attack on Titan, My Hero Academia, and One-Punch Man), much like older titles on Cartoon Network's Toonami did. It hasn't been the traditional ratings monster that some people would have liked or predicted (although it's not as if those numbers matter all that much), I'm delighted that the Toonami crowd was and continue to be exposed to JoJo's Bizarre Adventure. I believe the title has been performing well, otherwise, Toonami wouldn't continue to air it.
Even though initially the impossible expectations weren't met, I still find the addition of JoJo's Bizarre Adventure to be one of the better decisions Toonami has made since its revival. It's a fun and wacky series that a lot of fans look forward to watching. A lot of fans tweet about how excited they are to see a new episode on social media. It's a franchise which is difficult to describe, but it makes sense when you see it. I'm glad this series was heavily requested, and I'm pleased that Toonami listened, proof that listening to the fans isn't a bad thing to do.
Tune in Saturday, August 18 for the #Toonami premiere of JoJo's Bizarre Adventure: Diamond is Unbreakable!

— VIZ (@VIZMedia) August 12, 2018
I view JoJo's Bizarre Adventures as a great franchise to have on the block. It's a fan favorite thank to the crazy Stand abilities, as well as unique art. It should easily place near the top of Adult Swim Toonami shows. I don't want it to end, knowing that after Diamond is Unbreakable, there will be a long hiatus before the dub of Golden Wind is ready. I'm also hoping that David Productions won't take too long to get a Part Six adaptation ready (with how long it took between Part Four and Five). JoJo's Bizarre Adventure is a great anime and it's excellent that Toonami can be a part of that ride.
C.J Maffris is an editorial writer for Toonamifaithful.com Feel free to follow him on Twitter for more JoJo references @SeaJayMaffris