Every anime fan knows the name Demon Slayer: Kimetsu no Yaiba by now. Whether it be thanks to the numerous memes, the rampant squeeing and screeching over "little sister of the year 2019" Nezuko, or the (literal) fiery explosion of popularity that Ufotable's anime adaptation received after episode 19, there's no doubt that Demon Slayer has become a household name among the medium, and for good reason. It has a bevy of great reasons for successfully capturing the anime community's hearts, including, but not limited to, its stellar audiovisual design and the great use of its setting. However, through experiencing the anime, the manga, and loads of lengthy discussions with a few close friends, Demon Slayer grabbed a hold of my heart through the most unlikely of sources. Unlike most shounen series I've seen, it wasn't the plot flow or the action sequences that drew me in; it was the characterization.
To clear the air before I go in-depth, I am not referring to any sort of substantial character development or enigmatic complexity when I talk about characterization. Demon Slayer, much like many of the shounen anime that have come before it has simple characters, sometimes painfully so. The characterization I'm referring to comes through in a more active sense than traits written on paper, i.e. their actions and the subtle impact the setting has around their circumstances.
For starters, let's look at our hero, Tanjiro. The most unique thing about Tanjiro, especially compared to other shounen protagonists, is his emotional softness. Don't take that as me calling him a "weakling" or "spineless," because Tanjiro is anything but. His emotional softness comes through in the form of sympathy. Tanjiro's always been a big softie at heart, considering that he was the oldest of four children. From the little bit that we see in episode 1 and in flashbacks sprinkled throughout the series, Tanjiro always treated his siblings with much care, regularly patting their heads, smiling, and never raising his voice to them whatsoever. Despite having his whole family murdered in cold blood by a demon, Tanjiro desperately holds on to that side of him and never lets go, no matter how painful it may be. As outwardly cheerful as he appears, even Zenitsu commented that it sounded like he was on the verge of tears at all times. It's those little details that make Tanjiro a much more colorful character than he appears.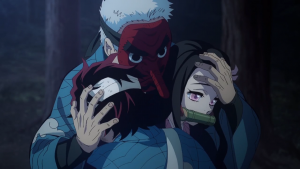 Tanjiro's whole character, dare I say, sets the tone for the whole series. A thematic keyword of Demon Slayer's is "humanity." Most of the characters shown through Demon Slayer have a distinctly human aspect to them; not so much in a sense of relatability, but in a way that meshes perfectly with their setting. They don't feel like random people placed in dangerous situations. They feel like an integral part of the world, immersed in such a way that their actions feel "natural," for lack of a better term.
Take our resident screaming boy, Zenitsu, for example. As exaggerated and insufferable as he can be, he does paint a near-perfect picture of a meek kid forced into a life he wanted absolutely no part in living. A kid whose naivete forced him to suffer the consequences of his own actions, Zenitsu's screaming loudly out of fear of the unknown does indeed make perfect sense. Despite all his loud squeamishness, he does know the right time to stand up for his beliefs, as seen when he protects Nezuko from Inosuke. (Thankfully that's not his only fantastic moment in the series, but you'll have to read the manga to see more.) Regardless of his petulance, I'd argue that Zenitsu is a fine character in the grand scheme of things, although I can't say the same about the incorrigible, idealistic fever dreams that he pushes on women…
Despite the root word, the human characters aren't Demon Slayer's only subjects of humanity. The demons themselves fall under one of the following categories: they're either fully humanistic, subjected to another character's humanity, or all of the above. The most prominent example is our wonderful leading lady, Nezuko, as she's had her actual humanity stripped away from her. Although she's no longer human, Tanjiro's sadness and pleading words overtook her newfound inhuman instincts and drive her to risk life and (literal) limb(s) to protect her dear older brother. Of course, it helps that Urokodaki placed a hypnotic suggestion to protect all humans on her during her two-year slumber. But soon enough, we learn from Demon Slayer that being a human isn't just what's in your blood, but also what's in your core values and character. It's not a particularly groundbreaking revelation by any means, but it's undoubtedly essential to Demon Slayer's themes and framing.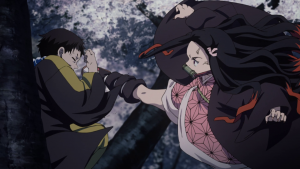 This brings us to our leading source of conflict: the demons. Of course, the biggest proponents of the revelation above, besides Nezuko, are Tamayo and Yushiro. In a "deal with the devil" motif gone right, Tamayo performs the act of turning Yushiro into a demon, an action that was previously expressed as inhumane and evil, in order to save his life from a terminal illness. Despite being demons that feed on human blood to survive, Tamayo makes the conscious decision to subvert the expectations of her own existence and become a doctor. In a creative move, she asks for payment in a little blood sample, thus keeping her and Yushiro alive without having to murder others in the process. Their virtuous character was strong enough to convince Nezuko that the two were more "human" than demon, no matter how many fangs or weird powers they have.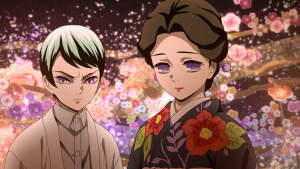 The niceties end with those three as of right now, as the other demons aren't as compassionate, to say the least. Even so, that doesn't stop Demon Slayer from showing them any sympathy. As we've seen numerous times in Demon Slayer, every battle with a major demon ends in a fairly depressing resolution due to a look into the demon's downtrodden backstories. One of the biggest character-defining and tone-setting moments in the series comes early within the first two episodes when Tanjiro hesitates to kill the demon attacking him and his sister. Not because he was afraid, but because he couldn't ascertain a quick way to put the demon out of its misery without it suffering pain. Even after joining the Corps, it doesn't stop there. Learning the truth about how the demons are born firsthand actively changed Tanjiro's outlook on how to deal with them. After every battle, Tanjiro remembers the unavoidable fact that the demons were once human, feeling an enhanced pain in the demons' final words following their defeat. What I love about this specific approach in Demon Slayer is while it enables the viewer to feel legitimate sadness towards the demons, it doesn't redeem them in any way, shape, or form, nor does it justify their actions.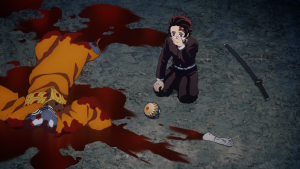 It's the heavily humanistic aspect of Demon Slayer that makes Muzan Kibutsuji such an important part of the universe. Main antagonist status notwithstanding, Muzan defies everything the series worked so hard to build and ushers in this unsettling, unconditional source of evil within the world of Demon Slayer. Unlike his cronies, Muzan didn't need a backstory to establish his character or a reason to perform bad deeds. Muzan's sole reason for his existence is to be the most irredeemable piece of garbage in the series. As unremarkable of an accomplishment as that sounds, the stark contrast he brings to the table molds itself into one of the most believable bouts of hatred I've experienced in a shounen series. Muzan's despicability goes far beyond "you hurt my friends so you must be punished." His simple, sociopathic acts of terrorizing innocent people that would be so boring and average in any other action setting hold a lot more weight and substance within Demon Slayer.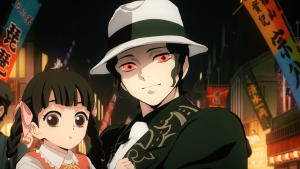 As Koyoharu Gotouge has shown us all, "simple" characters aren't inherently bad by any means, but I do believe that crafting them can be a risky gamble. Similar to visual art styles, the simpler a character is, the more flexible a writer can be when molding them, but it takes a masterful penman to do so without compromising the structural integrity of said character. If you ask me, it's safe to say that Demon Slayer has all of those aforementioned qualities down pat.
For more in-depth discussions on the Demon Slayer anime and manga, be sure to listen to the Demon Slayer Podcast!
Alien.Renegade is a writer and reviewer for Toonami Faithful, a Toonami-styled video editor, and the creator of many Toonami-inspired tracks. You can follow him on Twitter @AlienRenegade