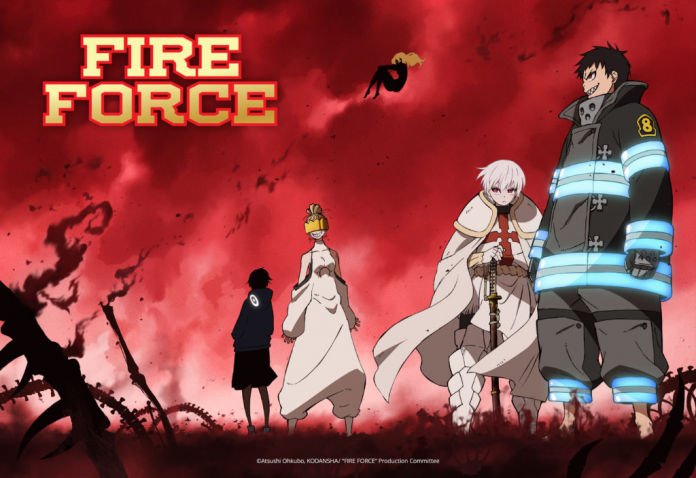 Following the premiere of episodes 23 and 24 of Fire Force in Japan, it was announced by David Production and Funimation that a second season is in the works. It is scheduled to premiere during the Summer 2020 season.
🔥"弐ノ章"制作&2020年夏放送決定🔥

壱ノ章の続編となるTVアニメ『炎炎ノ消防隊 弐ノ章』の制作が決定しました!

さらに"弐ノ章ティザービジュアル"も発表!

2020年も炎炎の炎はますます燃え続けます🔥🔥

『炎炎ノ消防隊 弐ノ章』ご期待ください!!#fireforce #炎炎ノ消防隊 #弐ノ章 pic.twitter.com/GYiyzRJh8g

— TVアニメ『炎炎ノ消防隊』公式 弐ノ章制作&2020年夏放送決定 (@FireForce_PR) December 27, 2019
Funimation released a trailer and a key visual for the new season of Company 08's fight against the White-Clad. The trailer includes moments from the first season as well as a glimpse into the future.
The trailer can be seen below. Potential spoiler warning for those following the Toonami broadcasts.
Prior to the holiday break, Toonami aired episode 19 of Fire Force. Episode 20 is scheduled to air on Jan. 4, 2020. Assuming that Toonami runs its typical schedule, the season finale will air on Feb. 1. There hasn't been any word from either Funimation or Toonami regarding if and when the second season will air as of now.
If you wish to see Fire Force return to the block for its second season, make sure to keep watching the show every Saturday. And as with any potential Toonami show, feel free to send your show requests to Toonami's Facebook page, or by directly messaging Jason DeMarco through his Ask.fm page or Twitter (@Clarknova1). We also recommend letting Funimation know through their respective social media outlets.
How are you enjoying Fire Force so far? Are you looking forward to seeing more in the future? Let us know by commenting below or directly on our social media.