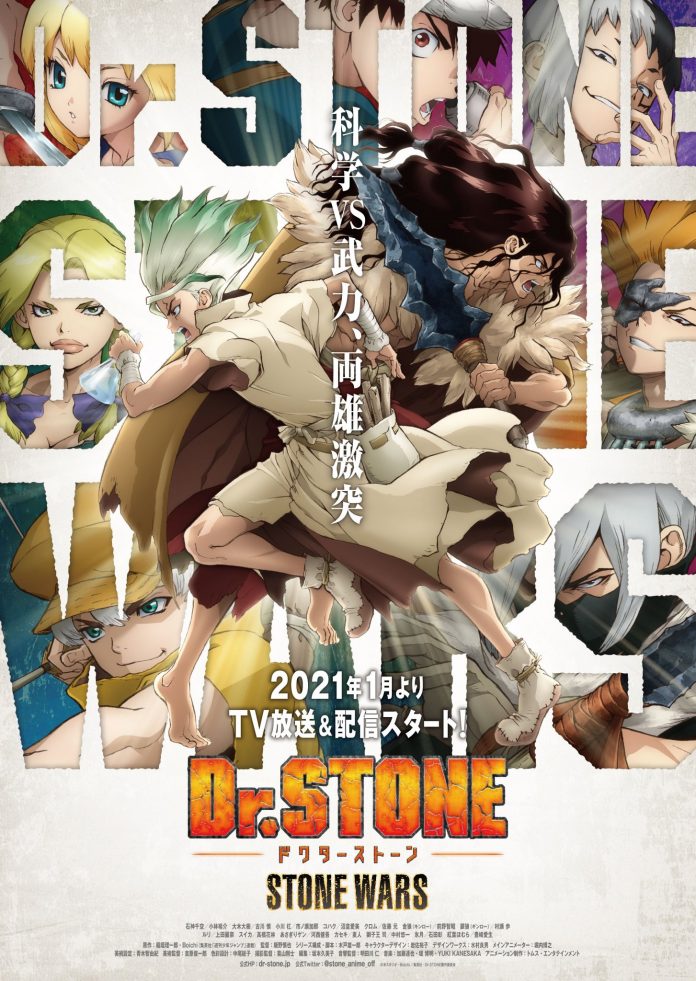 Following the season finale broadcast of Dr. Stone in Japan, it was announced that the show would be renewed for a second season titled Dr. Stone: Stone Wars. It will cover the "Stone Wars" arc from the original manga.
Further information was revealed in the latest issue of the Weekly Shonen Jump that Stone Wars will be premiering in January 2021.
Crunchyroll and Funimation have yet to reveal their simulcast and SimulDub plans at this time.
Also, in Fire Force news, Twitter user @Air_News01 has reported that the upcoming second season of Fire Force is listed to have 24 episodes across four Blu-ray & eight DVD volumes."
The season premiere will be simulcast on FunimationNow and Crunchyroll beginning on July 3, with a special screening at FunimationCon tomorrow at 4:30 p.m. EDT/ 1:30 p.m. PDT.
---
Update 7/2 @ 7:50 p.m. PDT: TMS Entertainment has just released a new trailer for the upcoming second season of Dr. Stone, titled Stone Wars, on both its Twitter account and the official Japanese Dr. Stone Twitter. The trailer features Senku and the "Kingdom of Science" as they prepare for war against the Tsukasa Empire.
This trailer was also accompanied by a new key visual, which you can see below.
Toonami hasn't mentioned if and when they will air the second season of either series at this time. As with any potential Toonami show, if you wish to see Dr. Stone and Fire Force return to the block for their respective second seasons, feel free to send your show requests to Toonami's Facebook page, or by directly messaging Jason DeMarco through his Ask.fm page or Twitter (@Clarknova1). We also recommend letting Funimation and TMS Entertainment know through their respective social media outlets.
Are you excited for more Dr. Stone and Fire Force? Let us know by commenting below or directly on our social media. And be sure to follow us on @ToonamiNews and subscribe to our podcast on Soundcloud for future content and breaking news updates.