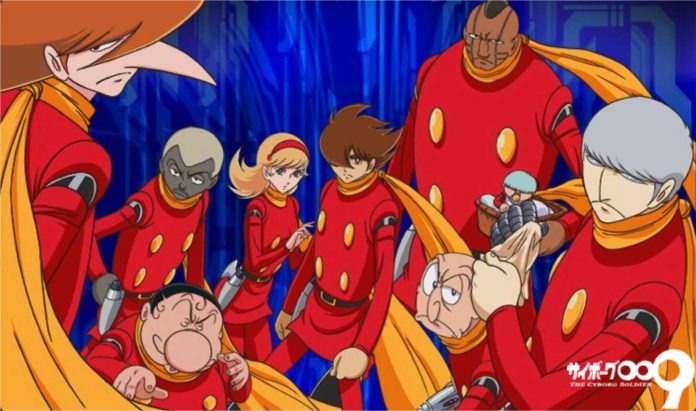 Discotek Media once again delivered smiles to the Toonami fan base on Sunday. They made a bunch of announcements at their Otakon panel and two of those were about shows that either previously aired on the block or are airing currently. The two shows that were mentioned in the panel were both Lupin the Third Part IV and Cyborg 009.
Cyborg 009 is coming to DVD & SD-BD! pic.twitter.com/O0nRcpR8Bk

— Discotek @ Otakon! (@discotekmedia) August 13, 2017
Discotek Media has rescued the Cyborg 009 series and will plan to release the full show for the first time in the U.S. This will be a DVD and Blu-ray release for the former Toonami show, and one that some fans have been clamoring for quite some time. Right now Discotek Media did not give a release date for Cyborg 009, but fans should expect it to happen soon (maybe late 2017 or 2018). Regardless of when it's released, I'm sure a lot of Toonami fans are excited to see this series finally available for home media fans after having it air on the block back during the Cartoon Network days. It was also a nice treat to see our former colleague, Jose Argumedo, working on the former Toonami show.
Literally no one guessed Cyborg 009. Coming soon from @discotekmedia! pic.twitter.com/sDoBFW41N9

— Jose Argumedo (@Jose_CNN) August 13, 2017
Discotek Media also gave some more information regarding their home media release of Lupin the Third Part IV. As some fans were aware, the music for this series on Toonami is different from what fans might have heard in the subtitled version. The English dub was based on the Italian cut of the series, meaning that the two are different. There were some alternative animation and shot timing, per Discotek Media. The company plans to address that by releasing two separate sets, with the English dub hitting shelves after its Toonami run. The tentative date fans were given was spring 2018. Discotek also posted a sneak peek of an interview they conducted with directors Richard Epcar and Ellyn Stern. It makes waiting for the release of this series more agonizing, especially seeing all the time and care Discotek Media has provided for the show.
And so, how to release Lupin part 4? The answer: 2 sets. Dub with Italian music after TV broadcast ends. Also version with Japanese eps pic.twitter.com/qNQ8lXjisH

— Todd DuBois @Otakon (@GWOtaku) August 13, 2017
Here's a sneak peek at our exclusive interview for #LupinThe3rd Part 4 directors, @ellynstern & @RichardEpcar! pic.twitter.com/pnH4ahK9vc

— Discotek @ Otakon! (@discotekmedia) August 13, 2017
Those were all the announcements that had to deal with Toonami, but Discotek Media did have plenty more to offer anime fans. Those announcements included: an English dub for Bananya (which will include Michael Toole) coming to DVD and Blu-ray, Tommorrow's Joe coming to DVD and Blu-ray, Lupin the Third: The Legend of Gold Babylon coming to DVD and Blu-ray, an English dub (by Team Four Star) for Hells coming to DVD and Blu-ray, NieA_7 coming to DVD and Blu-ray, Project ARMS coming to DVD, and Robot Carnival coming to Blu-ray for the first time. As I said, they made a TON of announcements which was awesome to hear. So plenty to look forward to for both anime and Toonami fans, and hopefully many fans will get the chance to jump in on the fun.
C.J Maffris is an editorial writer for Toonamifaithful.com. Feel free to follow C.J on Twitter @SeaJayMaffris