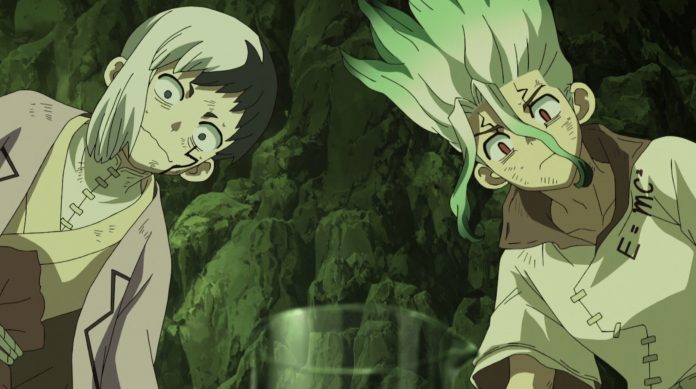 Fans last night were puzzled during the latest Dr. Stone episode. The story progressed rapidly and didn't match the previous promotional video Toonami aired. It was then everyone began to realize that Toonami skipped an episode altogether and aired the seventh episode instead of the sixth of Dr. Stone. Before, we weren't sure what would be done to fix this situation, but Toonami finally announced their plans to make sure no one misses an episode of the hit series.
Toonami posted on Facebook what they will plan to do to solve this new issue that cropped up this weekend. Adult Swim decided to broadcast Dr. Stone's sixth episode on July 22 at 12:30 a.m. Then the block will replay episode seven the following Saturday, July 29, at the same time. Some fans were curious if Toonami would shelve FLCL for one weekend to have an hour of Dr. Stone for one night, but that doesn't look to be the case. We aren't sure what led to Adult Swim's decision, but at least fans won't miss an episode altogether, especially from a huge favorite among the fans.
Jason DeMarco became aware of the issue thanks to the Toonami Faithful tweeting, wondering what was happening. He commented that issues with Master Control (which we assume is where the mistake was made) include dealing with cuts. A smaller staff is responsible for more work and has to keep tabs on many things coming out of Atlanta (including shows, movies, and commercials).
This isn't the first issue that has happened with a Toonami program not going as planned. During a marathon for the Harley Quinn series, Toonami accidentally skipped the first season finale, with fans not having a chance to see how that arc finished. Toonami also mistakenly cut a post-credit scene of episode 56 from Attack on Titan in 2019. And then there was a glitch with the sixth episode of Sword Art Online, where part of the episode was skipped as well. These are some recent examples of a small slip-up that can happen occasionally.
All of this is to say that mistakes can happen, and considering it will be rectified, it should be viewed as just a tiny inconvenience for fans. We will see the next couple of episodes in the correct order. We thank Toonami for quickly finding a solution and are glad things will return to normal soon!
CJ Maffris is Editor-in-Chief at Toonami Faithful and will be looking into his contacts with Master Control at the station he works in to learn a bit more about how things like this can happen. Curious about what he might find? Make sure to follow him on Twitter @SeaJayMaffris
Don't forget to check out the Toonami Faithful Podcast, the best podcast to stay up to date on all things Toonami, and hear the best commentary you won't hear anywhere else!