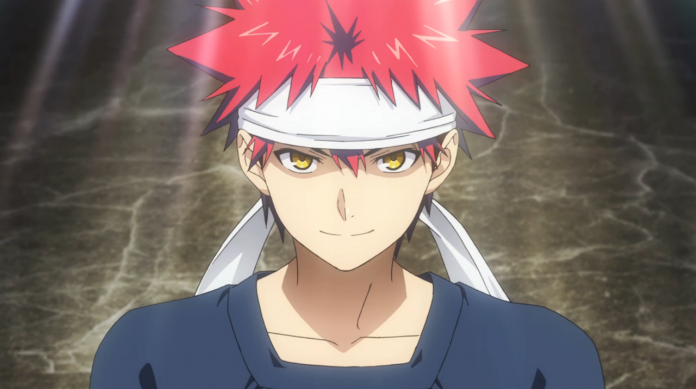 It finally happened. I still can't believe it.
After all of the pleading Food Wars will finally air on Toonami in July! It has felt like ages since fans and staff members at Toonami Faithful were at a fever pitch trying to get this series on the block. It may not offer the typical dramatic moments Toonami fans are used to seeing. However, the cooking matches should be enough to satisfy any entertainment craving fans might have. This is a monumental moment for Toonami because it shows that Adult Swim listens to their fans and will continue to create the best action cartoon block on television.
What's better than late-night snacks and anime? Food Wars! on #Toonami!

Catch Food Wars! starting July 6 @ 1:00am Eastern and Pacific pic.twitter.com/PTLSGzi1kb

— Sentai 🌈 Filmworks (@SentaiFilmworks) June 27, 2019
After teasing fans with the potential of four announcements at their MomoCon panel, the secret is finally out. The comedic series that Toonami said they acquired had to be Food Wars. It leads me to wonder why Toonami waited as long as they did to announce it. I imagine Sentai Filmworks want this out as soon as possible. I also find this move surprising, since the big push on social media came around 2016-17 (it's been a while). I wrote about Toonami looking at some non-action series, with Food Wars making the list, back in Feb 2016. It's possible that the hype surrounding the recent announcement with a new season on the way might have been the final factor Toonami took into account to pick it up. Still, I am curious as to why now (although I'm not complaining).
The best part about this recent announcement is that two rumors that gained traction lost a lot of weight. Many believed that Toonami and Sentai Filmworks wouldn't work together again (much like the Aniplex rumors). The last time a series aired on the block was Parasyte (a favorite series amongst the Toonami crowd). And the previous property of theirs to air was the film Children Who Chase Lost Voices. Due to the extended hiatus the two sides had from working with one another, there were those that believed theitroubled relationship had soured. So much so that during their industry panel at Anime Boston I asked if Sentai Filmworks was still interested in getting a series on television, or if they more strongly value promoting the streaming audience. I'm sure the representatives are laughing now. At the convention, they mentioned how adding any series on Toonami is something the company is interested in making happen. They enjoyed the late-night tweeting and interacting with the Toonami fanbase, and will get the chance to do it for a long time. Sentai Filmworks seems to value both the television and streaming audience, with this latest development making that clearer.
Hey #Toonami fans. You want Sentai Filmworks shows on the block? Request them to Toonami. The door isn't closed. They want more of their shows on the block. You know what to do!! #sentaipanel

— CJ Maffris 🔜 AX2019 (@SeaJayMaffris) April 19, 2019
Food Wars joining Toonami also shows the commitment the block has to add less action-centric series to the lineup. After Pop Team Epic (which was divisive in its own right), fans were cautious about whether another non-action series would get another chance. I wouldn't say Pop Team Epic was a flop, but it wouldn't have been my first choice for a non-action series. I'd argue that series belonged more on Adult Swim's regular programming and that Toonami should have looked elsewhere. But with how long of a wait non-action anime fans have had, it certainly had to make them nervous. Thankfully Toonami will once again try to air a non-action series, and they chose a great one to feed the fans who wanted something a little different. Hopefully, Food Wars will be able to connect with the audience, and I doubt it'll have that much trouble, due to how outrageous it can be.
It'll be fun to see Sōma Yukihira attend the most illustrious cooking school in Japan as he climbs the ranks to become the best young chef this school has to offer. Fans will get to see Sōma and his friends survive the trials to graduate this school and take down many new rivals who are amazing at the culinary arts. As a fair warning to those who might not have checked this series out, it has many moments that will make you wonder how it can even air on television. It takes "foodgasm" to the next level and often has many moments of both men and women feeling extremely satisfied after eating a good meal. It's those moments that was a massive draw for the property in both anime and manga form. The artwork and level of detail in every "foodgasm" moment were astonishing. It was quickly the best part of the series. And it wasn't as if you'd get the raunchy fanservice in every bite. You'd see large men in schoolgirl uniforms, thanks to the story a meal was telling, and see someone turn into a punk rocker. Each meal portrays something different, and the "foodgasm" would showcase that message in unconventional ways that will leave you laughing.
It's thanks to those moments from the "foodgasms" that we get the drama and intrigue that will have you addicted to the series. The "fights" are the Shokugeki's, and the meals are the special moves that are used to defeat an opponent. While we don't see Soma punch anyone, it's the dishes that become those special attacks fans see in anime. Soma will hit his enemies with an improvised dish that couldn't possibly be tasty, only to leave his customers more satisfied than his opponents'. And it's these Shokugeki's that bring excitement to the series. You want to see if Soma and his friends can match blow for blow against the elite students at Tōtsuki. You get excited to see what kind of idea pops into the heads of these chefs in order to beat one another. And it can be cutthroat. So much so, that chefs will spy on each other to try and find a way to crush the opposition. And when you see the staredowns in this series, it'll be hard to contain your excitement. I do think the manga did a better job showing how intense and evil these moments can be. But the anime will do just fine in creating tension for Sōma and his classmates.
Man Food Wars gets me every time. The stare downs are so detailed. Love seeing close ups of characters. pic.twitter.com/16iM0EcW6a

— CJ Maffris 🔜 AX2019 (@SeaJayMaffris) June 19, 2016
But the close ups on Hayama are amazing. The level of detail is astounding, especially with his hands. pic.twitter.com/wbDYvnTJDk

— CJ Maffris 🔜 AX2019 (@SeaJayMaffris) August 21, 2016
And while this series will have its detractors, since it's a long-runner and another Weekly Shonen Jump title, those aren't the significant issues that come up with Food Wars. I felt that the second and third season was rushed and didn't allow the proper amount of time for fans to digest what was happening. This feeling might be because I've read the manga and could go through it at a pace that I felt was perfect. But as the series continued to simulcast, the more it felt like we were going at 100 miles per hour. It's troubling, and I hope it's only my issue, rather than one of the vast majority. It's disheartening because Food Wars quickly became a top series for me and one that I couldn't wait to see every week. And sadly, the negative comments don't stop there. With the fourth season on the way, I hope it ends at the Central arc instead of going into what turned out to be the final arc of the manga. It was a mess and one that I couldn't take seriously, as there were a ton of issues that popped up (making a villain sympathetic, ridiculous adversaries, a poor motive, etc.). But I'll let fans make their own judgement as the series goes on.
This announcement is a big moment for Toonami fans. If you want more non-action series to air on the block, then I'd recommend you save some room for dessert and watch Food Wars. Is it the best series Toonami could have acquired? No, but it's a series that has a rather large following and has been requested for quite some time. It's something different and offers fans elements that action fans would also like, but in an unconventional way. It's hilarious and brings together two things fans can relate to: food and fanservice. I applaud the bold move Adult Swim has made, and cannot be happier that another Sentai Filmworks series will be on the block.
Late night snack, anyone? @shepard_blake @wittelstephanie @lucilovesmic @BKarbowski @JayHickmanMD https://t.co/nzO4R0Xe8H

— Kyle Colby Jones (@KyleColby) June 27, 2019
I'M YELLING
(quietly, in my office)
BUT I'M YELLING #FoodWars https://t.co/06vWIbPDea

— Katelyn Barr (@KBeeThatsMe) June 27, 2019
I literally screamed out loud and I'm crying very happy tears! 😭 I love Food Wars! I love the cast of Food Wars! I love @KyleColby for letting me be part of Food Wars and Im so excited Food Wars is joining the Toonami lineup! I love what I do so much! Tune in soon guys❤️ pic.twitter.com/0N2fhg9s38

— Christina Kelly (@ChristinaMarieK) June 27, 2019
Yessss!! Get your snacks 🍙🍡🍧🧁 ready and listen for me voicing Megumi 🍱🥢🐟🧺💙 https://t.co/xY8BSyikGT

— Jad Saxton 🦈 (@jadbsaxton) June 27, 2019
C.J Maffris is the senior staff writer at Toonamifaithful.com. Feel free to follow C.J on Twitter @SeaJayMaffris