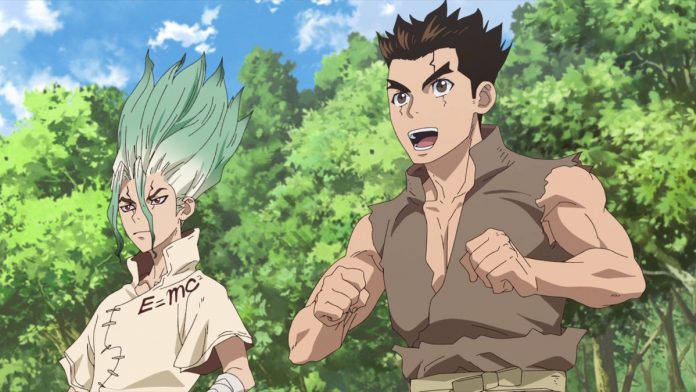 Fans should be getting excited, as Toonami announced on Facebook that the fan-favorite shounen series Dr. Stone is returning to the block this May. In what looks to be a stacked lineup come next month, Toonami again grabs another season of a series that aired on the block earlier.
Once Fire Force finishes its broadcast on Adult Swim, Dr. Stone will join the block at 1 a.m. starting on May 15. To make that fit, Food Wars! and The Promised Neverland with both air 30 minutes later. Fans can see the full schedule below.
Toonami Lineup May 15th:
12:00 a.m. – Dragon Ball Super
12:30 a.m. – My Hero Academia
1:00 a.m. – Dr. Stone
1:30 a.m. – Food Wars!
2:00 a.m. – The Promised Neverland
2:30 a.m. – Black Clover
3:00 a.m. – Naruto: Shippuden
3:30 a.m. – Attack on Titan
If you are curious what fans will see adapted, fans will see the "Stone Wars arc" adapted this second season. Senku's kingdom of science will face off against Tsukasa's army, but which side will prevail? You'll have to watch to find out! Surprisingly, the second season of Dr. Stone only has 11 episodes compared to the 24 episodes the first season had (similar to what Food Wars! had with its second season).
This latest development now marks two series joining the Toonami lineup this May (with My Hero Academia's fifth season joining a week earlier), making this upcoming month eventful for fans of the block.
Are you excited about Dr. Stone's return to Toonami? Tell us how you feel in the comment section below, or on our social media pages!
Don't forget to subscribe and listen to the Toonami Faithful Podcast!