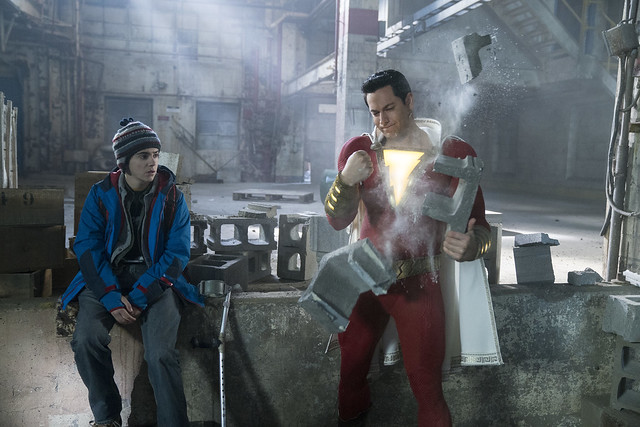 Written By: Evan Kern
Everything I loved this viewing is pretty much what I liked when I reviewed Shazam! the first time around, when I saw it in theatres.
The characters…
The action …
The parody and riffing goofiness of the presentation…
Everything marries so well together, here, and I still firmly believe it's because DC/Warner threw up their hands and said, "Let's experiment—try something new!" And, just as with James Wan's Aquaman, it worked.
That's why I jumped right into the special features found on the Blu-Ray, before tuning back into the film again—to see how these creators took one of comic books' oldest mainstays and brought him to such vibrant life on the big screen.
In the animated comic short, "Superhero Hooky", we get another look at the Shazamily's…extracurricular activities, where the gang all ditch school to stop a heist in-progress. It's a cute take—well-drawn and voiced by all the same folks. Would've made for a cool deleted scene on the disc, or an additional scene tacked onto the end-credits roll.
The "Magical World of Shazam!" featurette showcases the coordination between director David F. Sandberg and the many departments working on the project. A little something for the technical geeks (like me!), the featurette gets in-depth with the riggings used to propel the actors like they were real superheroes, flying around Philly, and how different set-pieces were brought to such detailed life. The pressures of shooting, break-down of Zachary Levi's training regimen, Mark Strong's Sivana villain are all detailed, as well as Sandberg's 'cameo' role in the film—watch for yourselves to find out whom…or what, rather…he plays!
"Super Fun Zac" takes us all the way from Levi's audition for adult Freddy and the decision on him being the lead, to all the on-set antics and how he was really a positive and kid-like anchor for the other cast members. I'll tell ya…I really dig that remix of Kendrick Lamar's "Humble", too!
It was neat to see all the deleted and alternate takes, too, included with an intro to each by Sandberg, himself. While a lot of it, as he says, was fluff that didn't add anything to the plot, it's always cool to see that back-of-the-mind thought process that gets whittled down to the final, practically-perfect end product. I also love a good gag reel; with Levi on the scene, it's a reel hoot, too!
The extra-special short-doc "Who Is Shazam?" explores the character's origins in Whiz Comics, and how DC kept rewriting and reshaping him—like their flagship Batman and Superman characters—over the many decades he has been popular. It was, like any other superhero story, and pick-and-choose experiment with all of Shazam's different iterations and incarnations. What we end up with, though, is a coherent and creative romp that's sure to be alive in conversation and at cons for a long, long time.
There's a "Carnival Scene Study", which breaks down the different practical and VFX aspects of the final fight between Sivana's Sins and the Shazamily. It was supposed to be a lot more grandiose of a fight, apparently, in the planning stages; in an attempt to keep it more of a grounded, personal climax to the story, though, the stage was dropped down to what we have. Again, it works perfectly for the characters and their arcs throughout the film.
"Shazamily Values" is a featurette that breaks down all the different members of the main cast, and side-by-sides them with their adult incarnations. Not full-on interviews, but we see a bit of the fun interplay and banter that developed during shooting between the kids and their grown counterparts—Asher Angel and Zac Levi's being particularly cool, almost like brothers.
Sandberg's excellent direction, showcasing his horror roots all along the way, and his great control over the cast, crew, and production, writ large, promises a long and successful career ahead of him. Despite this not quite being his gag, he saw what Wan did with Aquaman and ran with it, making the production his own. The montage scene of Freddy and adult Billy testing his different powers is still my favorite in the film, and I really tip my hat to the creators for not side-stepping that very important, oft-missed point in an origin story like this.
Shazam! is a fun and super-meta deconstruction of superhero tropes that feels fresh and welcome in a saturated market of "the same". I am stoked for whatever sequel is in the pipeline, and want to see some more engrained connections in this larger world DC is building for themselves, cinematically.
Maybe…a cross-over event?
Score: 9 out of 10
Own Shazam! now on Digital, 4K UHD Combo Pack, Blu-ray Combo Pack and DVD Special Edition.