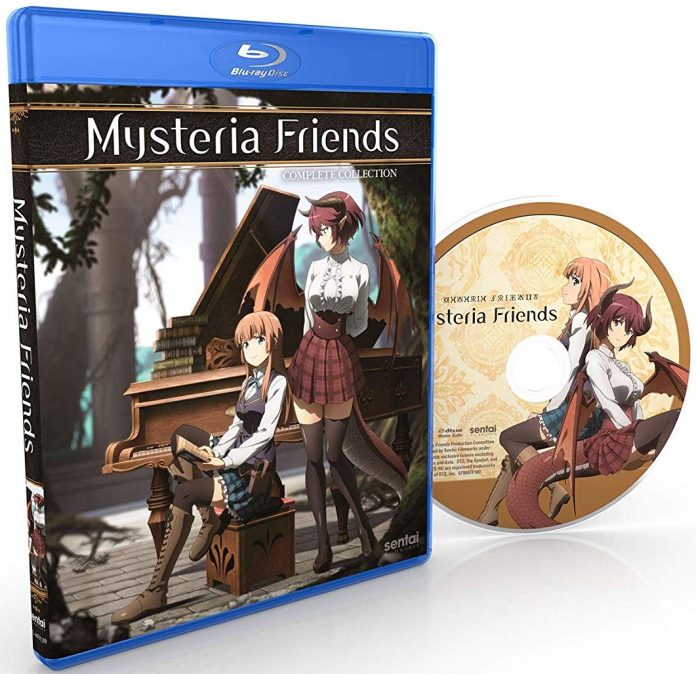 via Sentai Filmworks
For a series that was short, sweet, and simple, I wasn't expecting a long-convoluted backstory about how it came to exist. I was shocked to hear that Mysteria Friends was announced back in 2015 and, for reasons unknown to the world, was delayed for three years (2016-2019). Seeing how Cygames produced this series based on the Rage of Bahamut mobile game, I figured it would be a rather simple task to get this series out. Instead, fans had to wait a long time and hope that a licensing company like Sentai Filmworks would swoop in to rescue it. But was the wait (for fans of Rage of Bahamut) worth what Mysteria Friends provided? Overall, I'm impressed, but I'm not sure how others will feel.
Mysteria Friends takes place in the same world as the Rage of Bahamut anime. However, you don't need to have seen either Rage of Bahamut series to understand Mysteria Friends, since it never references it. Instead, we follow two central heroines, Anne and Grea, who go to school at Mysteria Academy. Anne is a smart, energetic, and sweet young princess who seems to be one of the more popular girls in school, sharing her warm presence with everyone. On the flip side, Grea is a much more reserved character who happens to be a dragon folk. The two seem to be close friends at first, but as we later find out during the span of ten episodes, there seems to be a more romantic (yuri ) undertone that develops much throughout the series. Thus, viewers watch them go through all sorts of fun, mischief, as well as mundane school activities, to see if they not only both succeed, but also if their romance blossoms to be more out in the open than the typical cat and mouse game fans are accustomed to watching.
Usually, I'd dive into more about the story, but Mysteria Friends doesn't follow the sort of plot that Toonami fans are accustomed to seeing. And by that, I mean there wasn't much of a story at all. It's just 10 episodes where Anne and Grea find themselves seeing one another or playing together (whether that be hide and seek or playing the piano). We follow our two heroines and see how they navigate Mysteria Academy and develop more and more of a relationship together. We watch how Anne loves to tease Grea and touch her tail, while Grea finds herself lost without being around Anne. It was cute, and something I enjoyed watching play out.
The best way for me to describe this series is that it's a cozy slice of life anime, with a lot of yuri potential. And it made watching easier when I realized the episodes were only 15 minutes long. The central part of the episode would end around 10-11 minutes with a credit scene and approximately 2-3 minutes more of other scenes as it relates to the main part of the episode. Sometimes the scenes after the credits would progress the story a bit (like their teacher seeking the help of Anne and Grea to wear her costumes). Or the post-credit scenes would show a past episode as we see Anne being told not to participate in the school drill. It made things go by quickly and gave the anime a nice crisp feel.
The animation by Cygames Pictures was phenomenal, and I was left in awe at how well the series looked. During the training exercise episode, I found the action to be stellar and wished there were more moments like that. Seeing Grea take down a giant adversary was excellent, and showed why she's as popular as Anne. But even when there wasn't much action on the screen, the animation and background for this series sparkles and is easily a huge selling point for Mysteria Friends.
As for the English dub, Sentai Filmworks (specifically the casting director) did a fantastic job of finding some talented voices to be in this series. Both Catherine Thomas (Anne) and Avery Smithardt (Grea) did an excellent job as the leads of this series. Thankfully, since I've seen Arrow of Orion and Princess Principle, I knew what I was getting with Smithardt, who has been stepping up to give a lot of great performances lately, and I cannot wait to hear her in more shows. She was able to perfectly portray an elegant yet shy young maiden, who would miss the attention of Anne. It was sweet and she should be praised for the job she did. However, I thought Thomas' performance was the best, as she nailed the youthful, exuberant high school student, as well as doing a great job of acting when Anne was a bit lustful toward Grea. Filling out the rest of the cast were well-known names such as Juliet Simmons, Adam Gibbs, Jay Hickman, and Hilary Haag, who all did a great job when their characters had some screen time. I thought the entire cast did a great job and should feel good about their time in Mysteria Friends.
Toonami Faithful was given the standard release of Mysteria Friends, which comes in a simple Blu-ray case. The cover does look nice and I found the disc art to be aesthetically pleasing. But for those who like limited edition anime, waiting might be the better option, as Sentai Filmworks will release a premium edition of the series in June.
Not knowing what I was getting into with Mysteria Friends made the enjoyment of the series better. I didn't realize it was in the same world as Rage of Bahamut, and that was probably for the better. I am curious why fans had to wait so long for this anime project to become a reality, but they say patience is a virtue. It was the perfect cozy anime, and I would easily recommend it for those who enjoy stories without much story, as well as something with a lot of yuri potential. It was a lot of fun, and I'm curious to see if Cygames decides to produce more series involved with this franchise.
Rating: 8.5/10
Pros: Shorter episodes which made the series feel crisp; fun to watch the relationship of Anne and Grea grow; wonderful animation and music; a great English cast.
Cons: Can feel boring for those who like more action; no real story to follow which some could find hard to get into.
C.J Maffris is the Editor-in-Chief at Toonamifaithful.com. Feel free to follow C.J on Twitter @SeaJayMaffris
Make sure to check out the Toonami Faithful Podcast!