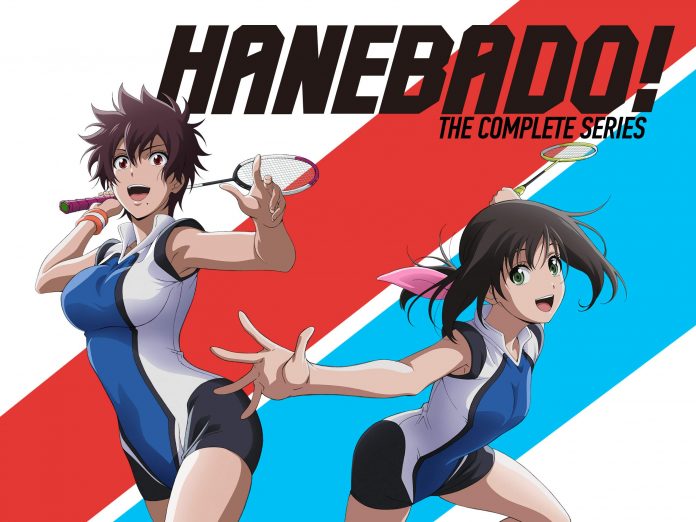 When talking to sports fans, you can probably find a niche sport that grabs their attention. Some might find pleasure in watching luge, polo, or dodgeball rather than football or basketball. And there are a ton of manga authors that can find beauty and drama in these niche sports. So enter Hanebado! which introduces viewers to the game of badminton. While it may not be as well known as tennis, the competition can create some insane matches, and volleys that seem like they never end. But is there enough tension and excitement to hold onto viewers till the end?
Hanebado! takes place at Kitakomachi High School in Japan. We watch as team captain, Nagisa Aragaki, suffers a humiliating loss at the hands of a middle school student. Nagisa goes on a rampage to try to improve herself, as well as her teammates. It doesn't go well for the club. Many members feel that Nagisa is taking out her frustrations and shortcomings on them, forcing them to quit. When the badminton team looks to be at it's lowest, a new first-year student is persuaded into joining the team, and her name is Ayano Hanesaki. Little does the club know that Ayano is a badminton prodigy, trained by one of the best players ever to grace the sport, her mother. But Ayano decides to leave badminton because her mother, Uchika Hanesaki, leaves her after losing a match. However, we learn that there was more to Ayano's mother's decision to leave. Thus both Ayano and Nagisa are on a crash course to not only become better players but better people as well.
Kitakomachi High School begins its season with hopes to make it to the nationals. During this season, we watch Ayano return to her former self, face opponents from her past, and become influenced by Uchika. While in the shadows, Nagisa slowly improves her ability and becomes a worthy rival of Ayano. The two continue to make strides throughout and end up facing each other in the finals of a national qualifying badminton tournament. It's here where both girls ask themselves, why are they playing the sport? And they can only find that answer after they play each other in a gripping three-set match.
What stood out to me the most was how well Hanebado! portrayed how mentally, physically, and emotionally taxing it is to play sports at a high level at a young age. Many studies have documented athletic burnout, the level of dedication students need to participate in school athletics, and its adverse effects. For every student that sticks with it and reaches their goals, others drop out due to how little fun they have. It's a revealing story personified by Ayano. Being the daughter of one of the greatest badminton players has trapped her in a world that she no longer loves. It took much pressure to get her back on the court, but the trauma of her mother leaving her stays with Ayano throughout this series. After Uchika leaves, Ayano goes on a tear and continues to pursue badminton so intensely that she breaks herself as well as her opponents. It isn't until she meets Nagisa that Ayano plays the sport for a reason she loved. And I found that journey memorable and a stark reminder of how competitive high school sports can be.
I can't imagine the pressure that fell on Ayano's shoulders simply because she was born. Playing the same sport as a famous parent can lead to some serious mental trouble. Worrying about living up to their parent's standards can be on the back of the child's mind (as well as their peers). I can't imagine being the son of LeBron James and deciding to play basketball at the same level as his father. That's something that Ayano had to shoulder, and she cracked. She eventually found the strength to make her path, but that stigma follows her and Hanebado! created its atmosphere more impressively than I was expecting.
I was also impressed with the portrayals of both parents and coaches. It starts with Uchika, who a more hands-off approach when she decided to leave Ayano. In the end, it wasn't what Ayano needed, and it emotionally destroyed the young athlete. Yet, finding that balance of how to cultivate a love for a game is something that I'm sure all parents strive to accomplish when their child displays a promising talent. And later watching how Kentaro would handle both Nagisa and Ayano to create a relationship, that I enjoy seeing between coaches and athletes. It was much better than Kuraishi, who would bark orders over and over. But there are all kinds of styles of coaching, and I found that Hanebado! created an interesting dynamic.
It wasn't just the story and the relatability of the subject that wowed in Hanebado!. I found the animation and music, specifically in the matches, on par with many top-tier sports anime. The tension in the muscles, the sweat pouring, and the death stares given by the players, all delivered. It brought a lot of attention and excitement to the matches. The fast pace of the games became an enormous strength for the series due to how small the court is. The volleys became more intense, and each point felt like it could be the turning point for either participant. The racket's whips made every moment feel essential, and I loved how mind games played a part in every contest. I wish there were more time given to the matches than some of the team's more interpersonal moments.
And that was a big point of contention for me when watching Hanebado!. The more we got to know the main characters, the more I felt like they were jerks. Ayano became arrogant about her natural skills and ability. Her taunting, mind games, and overall behavior was so unbecoming, that I would actively root against her. It was sickening, especially when she didn't seem to have an ounce of empathy toward Connie (a fellow badminton competitor), who Uchika saved back in Sweden. Ayano could only think about how she was affected by the abandonment by her, which was selfish. But Nagisa didn't get off the hook with me either, taking out her anger on teammates when she was in a slump. To me, that showed her colors when she hit that wall, and instead of self-reflecting in a more positive manner, she lashed out and forced her shortcomings on others.
Oddly enough, I didn't feel a need for the other characters to do much in this series. None of them stood out in any way. No one else on the Kitakomachi High School was at the same level as Nagisa and Ayano. That's ok, given how talented both ladies are. But the series seemed to shoe-horn the supporting cast too much when I'd rather have seen more matches between Nagisa and Ayano. Just like in real sports, the better teams should get more prime time exposure. And the emotional appeal and connections the story tried to make with the other teammates felt forced, amounting to nothing. Riko, as Nagisa's support system, was excellent, and her presence was needed, due to how stubborn Nagisa is. Elena was that same driving force for Ayano. But Yukiteru, Gaku, and Sora could've quickly been removed from the series with very little change in the overall plot. It might have resulted in more badminton matches.
And what might feel weird to those who know the ins and outs of this series, some things in the anime were changed from the source material, but I found this fascinating. I'm curious to know which story arcs changed because the anime story flowed in a way that made sense. I didn't find things jarring or off with how the story was structured. But I was intrigued when I learned the "sibling rivalry" between Connie and Ayano played a lot more in anime, which I thought was a brilliant idea. Connie is the villain in Ayano's world since her mom left her and trained the Danish prodigy instead. Their fight to be recognized by one another (as well as Uchika's) created a beautiful dynamic. It led to Ayano finding a new goal in life, to leave her mother as she did her, giving her more reason to play badminton. However, I learned that there isn't a release of the manga in the U.S., so the anime might be the only way to experience Hanebado!.
As far as the English dub is concerned, I thought Dawn M. Bennett (Nagisa) gave the standout performance. She nailed the emotional turmoil that Nagisa faced when she took out her anger on anyone and dealt with Ayano's taunts. Nagisa worked through tremendous pain, and Bennett's acting was phenomenal. I also give a nod to Connie's voice actress's (Ariel Graham) due to the accent she had to have, which is always something I think is difficult to perform. Now, I wouldn't say the rest of the cast didn't do well, but nothing truly stood out beyond Bennett. Everyone filled their roles nicely like Amber Lee Conners (Ayano), Sarah Wiedenheft (Elena), and Jill Harris (Riko). There wasn't a weak link in the entire series. But, considering how non-essential the side characters felt, it would be pretty hard to change my opinion based on their performance alone.
FUNimation didn't add much in terms of extras. Fans get textless openings and closings, and that's about it. The company did have two art cards with Ayano and Nagisa on them. But nothing that would thread the needle in making this a must-buy. Hanebado! might be a series that fans prefer to own digitally rather than going out to buy, considering you'd be getting nearly the same amount of content.
I would've liked Hanebado! to be more of a hit than it was. I enjoyed watching a sport I don't usually see. I would've wanted to see the rivalry between Ayano, Nagisa, and Connie grow. I hoped to see if Ayano indeed found her passion within the sport as well as how well her adversaries would do facing off again. But the animation during the matches does the series justice, and I think many who enjoy sports-related anime should check this one out if you are looking for a short series that has a lot of emotional moments.
Rating: 7.5/10
Pros: Depicted the stress high school athletes face beautifully; showed the negative effects of burnout; seeing how both parents and coaches for student athletes are portrayed; found the matches enjoyable to watch; Dawn Bennett's performance.
Cons: Main characters weren't the best people; side characters didn't add much to the story at all; wished there were more matches animated; very few extras.
C.J Maffris is the Editor-in-Cheif at Toonamifaithful.com. Feel free to follow C.J on Twitter @SeaJayMaffris
Don't forget to check out the Toonami Faithful Podcast!