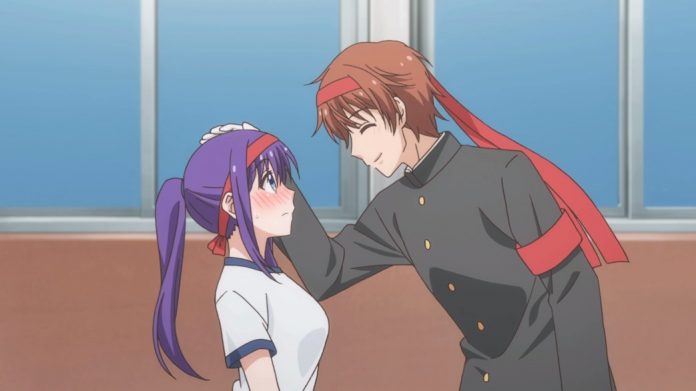 via Silver Link
Being a "connoisseur" of romantic comedies, I was anxious to review Ao-chan Can't Study. I wasn't sure what to expect, but I anticipated getting a few laughs while seeing a couple emerge from the series. I was pleasantly surprised at the fresh feeling I got from this series and its premise. How does a high school student deal with life when her father is a famous erotic novelist? It certainly can cause a lot of issues, especially when the young girl begins to have an interest in boys. I was curious about what Ao would do once a popular young boy showed interest in her. Of course, her father would be good for a few laughs, but would that energy stay throughout the whole series?
In Ao-chan Can't Study, we follow Ao Horie, who, while in kindergarten, wrote an essay about herself that she regrets. Her father, Hanasaki Horie, is a famous erotic novelist, making Ao's life awkward and uncomfortable for herself and her peers. So Ao aims to get stellar grades and then move to a university far away from her family. Because of her goal, she tends to steer clear of making friends with other people and is especially cautious around boys, thanks to what she's seen in her father's novels. A popular boy named Takumi Kijima is very interested in Ao and tries to break through her icy demeanor so they can start dating. And because of how different Kijima behaves toward Ao (contrary to what she expected), she begins to get flustered and can't study!
For those who aren't as sold with slice-of-life or romantic comedy anime, I think Ao-Chan Can't Study would be a great place to start. Each episode is only 12 minutes long, meaning you could breeze through this series rather quickly. It didn't feel like a substantial investment, and the crispness was a massive plus. It wasn't a slog to get through, and the pace of the series was natural. While I'd like to see more episodes, the story kept me interested, and I think others will feel the same.
As for what viewers will be consuming, it can be tough to stick with a series if the characters aren't memorable or enjoyable to watch. The more I watched, the more I appreciated Kijima as the male lead of this series. I found his innocence, patience, and sweetness the perfect combination of traits I like to see in the love interest. He wasn't sleazy, which is common in harem anime. And while there wasn't a harem element to this series, I was glad to see Kijima stay true to his words and behave like a caring young man, instead of a hormonally challenged young boy. Even during moments when he was beginning to lose a bit of self-restraint, he stayed pure for Ao, and that's who I'd want Ao to date.
And Ao was no slouch either as her antics became more cute and funny throughout the series. Finding out that Kijima is a virgin and acting as if she knew more about sex (due to her father's books despite having no experience at all) was cute. And thinking that Kijima was trying to have sex or do sexual things in public led to some humorous misunderstandings (that Kijima didn't pick up on). And it was hilarious when Ao was learning about size, how it could hurt, and wondering what Kijima was working with below the belt. It led to funny moments and misunderstandings that helped carry this romantic comedy.
The supporting cast did an excellent job bringing the spotlight to our leads. I found Ao's father to be more complex than I imagined. It was strange seeing him try to help Ao and Kijima become closer, but I felt that his fatherly advice (when not used for a gag) was appropriate and loving. And Miyabi, as Ao's foil character, worked out well considering the history between the two. Both are pretty, and Miyabi didn't like how Ao would push boys away even when they were interested in her. It created a rivalry and caused Miyabi to force Ao's hand when it came to Kijima. She wasn't someone I focused on very much since she was trying to steal Kijima's love and attention. But it would help if you had some friction in these types of series to keep viewers invested, and Miyabi creates that perfectly.
Ao-chan Can't Study did a great job showcasing the "sexual awakening" of high pubescent high school students. Ao's upbringing had warped her mind, but her curiosity created some adorable and funny moments. Ao's misperception of Kijima as a sex fiend who enjoyed public displays of lewd acts is the hook of the series (and what fans shouldn't get tired of seeing). But it was equally funny to see how the two would sass each other when they were around other members of the opposite sex. It stayed cute and didn't wander to levels that some might find uncomfortable.
As far as the English cast goes, Sarah Wiedenheft steals the show as Ao. I loved what she was able to do, giving her an icy tone when mad, a jealous sound when she saw Kijima with another woman, as well as her flustered moments. Ao was the complete package, and I thought Wiedenheft rose to the occasion. And while the rest of the cast wasn't weak in the slightest, I didn't get the same blown-away feeling that I did with Wiedenheft. Still, Blake Jackson, David Harbold, and Natalie Rial did an excellent job rounding out the rest of the central cast. But everyone's performance in the series was great.
Sentai Filmworks gave Ao-chan Cant' Study a standard Blu-ray release and did not have much included in the forms of extras (just textless openings and closings).
The fact that Sentai Filmworks produced an English dub for a shorter slice-of-life series puts a smile on my face. Typically these more concise run-time series are lost in the void and are barely touched. Ao-chan Can't Study contained some amazing "TLC," which was enough to sell me on the show. It's fun and cute! I loved watching Ao's journey in becoming more open, not only with boys but also with girls. She and Kijima were made for each other, and watching their relationship unfold was the exact kind of viewing experience I wanted to see. It's a solid romantic comedy, and people should give it a try if they can.
Rating: 8.5
Pros: Short run time making it easy to breeze through the series; Ao being a complete character; Kijima a great male love interest; genuinely funny moments due to misunderstandings; fun opening song.
Cons: Very few extras; wish there were more episodes made.
C.J Maffris is the Editor-in-Chief at Toonamifaithful.com. Feel free to follow C.J on Twitter @SeaJayMaffris
Don't forget to check out the Toonami Faithful Podcast!