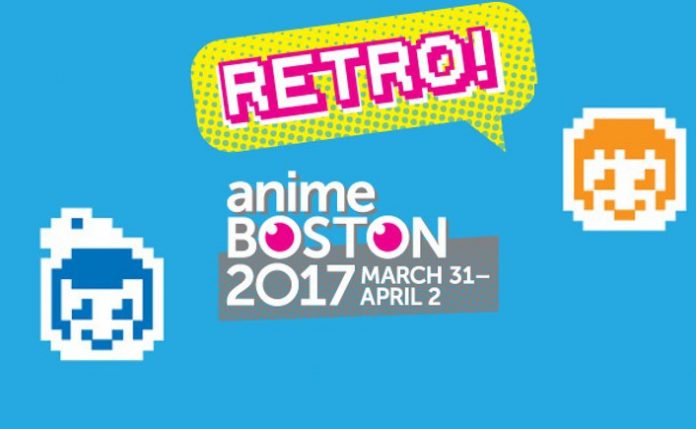 What a great way to kick off the Anime convention tour with one of the biggest in the country. Anime Boston provided anime fans with a bevy of interesting panels and guests (which felt like more than any other year before). While I was working by myself this year, I had my fill of a ton of panels (so much so that I wouldn't eat to make sure I'd make it to many of the panels). The fun included industry panels, guest Q & A's, and entertaining topics discussed by other fans. So how did the overall convention go?
Let the fun begin! Love representing @ToonamiNews at #AnimeBoston2017 pic.twitter.com/upoCOE2bMF

— CJ Maffris (@SeaJayMaffris) March 31, 2017
I have to say that the staff at Anime Boston 2017 deserves a huge round of applause. The Hynes Convention Center was packed and had a long list of guests, which had to have made the convention tough to run. I cannot imagine all the running around that had to occur to make things run as smoothly as it did. Even during a whacky fire alarm test that decided to go off during VIZ Media's JoJo's Bizarre Adventure panel, things continued to run smoothly at Anime Boston. Also, with how many guests and VIP's that were invited to the convention, making sure schedules were kept was pretty impressive. Add on to the fact that security ran much smoother this year compared to previous years, thanks in large part to sealing one of the entrances to the Dealer's Hall to give security more space was a smart move on their part. On Saturday, in particular, there was a huge line to get into the convention center, but if you looked for other entrances, the wait was extremely short. So it was possible to move to and from the Hynes quickly.
There were some excellent panels that I was looking forward to checking out. It was amazing getting a chance to see a few of Crunchyroll's Spring Simulcast lineup before the general public got to (although showing Berserk as early as they did wasn't the best idea for those who have seen episode two already). Not to mention I was able to wake up early and check out the premiere of Attack on Titan Season Two (subbed). It gave me goosebumps, and I couldn't be happier that the Titans are back. It felt odd that FUNimation decided to stay quiet on the recent news about Attack on Titan coming back to Toonami, but it was a treat nonetheless. And on a personal note, I enjoyed the My Hero Academia panel, which had Christoper Sabat, Brina Palencia, Masahiko Minami (Founder and Producer at BONES), and Wakana Okamura (Producer at BONES) to watch the first episode of season two dubbed with an added Q & A afterward. I love that series so much that just being able to see it again was a lot of fun, as well as hearing how those who worked on it feel about the series. (Also this series should get a serious push from fans to have it air on Toonami).
Thanks to everyone who attended the #MyHeroAcademia Season 2 English Dub Premiere panel at @AnimeBoston! PLUS ULTRA!!! pic.twitter.com/S1LdbsXZq9

— Funimation (@FUNimation) April 2, 2017
There were a couple of guest panels that were also a HUGE treat to be in the audience for, with LeSean Thomas being the best. Listening to him discuss his career path, his thoughts on animation and race, along with giving advice to aspiring animators took my breath away. His panel became one of the more remarkable ones to go to simply due to the subject that was brought up. Christopher Sabat's panel was also delightful to see as he's just as funny in person as he seems in a lot of titles he's been in. He's enjoyed roles you'd expect like Zoro, Vegeta, and All Might, but also enjoys some more funny characters like Gaterbelt and Ayame Sohma. He also gave a history lesson about FUNimation which captivated the audience and a little treat about One Piece and the fake Straw Hat Pirate voices. And speaking of captivating the audience, Anime Unscripted was hilarious as it usually is. The four guests (Brina Palencia, Lex Lang, Sandy Fox, and Lisa Ortiz) strutted their improv skills, which made the night feel a lot better.
As far as events go, JoJo's Bizarre Adventure panels stole the spotlight at Anime Boston. Sure, the world premieres of Sentai Filmworks' Anonymous Noise, My Hero Academia, Attack on Titan Season Two, and the English dub of Sword Art Online: Ordinal Scale were popular and attracted a lot of guests, but the East Coast wanted some JoJo. A total of eight panels all about JoJo were held at the convention throughout the weekend, which culminated in seeing the first three episodes of Stardust Crusaders in English. JoJo still seems to be as popular as ever, and Anime Boston did what they could to fulfill the need for more.
.@AnimeBoston So it looks like the Blu-ray for #JoJosBizarreAdventures will come out this summer pic.twitter.com/d3nWsLcauy

— CJ Maffris (@SeaJayMaffris) March 31, 2017
As far as news goes, nothing major was announced at Anime Boston. Each company was sharing some new releases that will be released, whether it be manga or anime. The announcement that many were looking forward to was from VIZ Media about its JoJo's Bizarre Adventure Part One and Two Blu-ray release, which will happen this July. It will even include a monstrous 160-page booklet. We also learned at that announcement that Stardust Crusaders is still in production and not ready for television broadcast (aka Toonami) or home media release. Fans were treated to a clip of episode five that wasn't finished yet either, so you'll have to wait a while to see it. VIZ Media also announced that in the One-Punch Man home media release, the OVA's would be included and they were dubbed in English. Oh, and for some reason, Vermont Senator Bernie Sanders was at Anime Boston. I still can't believe that happened.
Who's that at Anime Boston?!? pic.twitter.com/GxXgRhnFR8

— Crunchyroll (@Crunchyroll) April 4, 2017
For Toonami Faithful, we were able to get eight (that's right eight!) interviews. Sadly, there are a few that I can't say much about right now, but you might see an announcement or two. The interviews I can talk about are with a variety of voice actors who have graced the block in Adult Swim's Toonami, such as Cherami Leigh, Greg Ayers, Brina Palencia, Robbie Daymond, and Michelle Ruff. Unfortunately, some of the audio might be screwy due to one of the mic ports on my camera not picking up any sound (I don't know what to tell you). Thankfully, though, the camera has it's own mic attached that can get the sound as well, but it obviously isn't as good as a plugged in microphone. We will keep you updated on how these projects are coming along (expect one interview to drop soon!).
All in all, I had a fun time at Anime Boston this year. It would have been better to have someone with me throughout a lot of it, but there were quite a few fans of Toonami Faithful and Toonami Faithful Podcast who helped make the convention even better (I THANK YOU ALL FOR HELPING ME KEEP MY SANITY). I hope to see you all again next year (or at another convention). The convention couldn't (on my end) have been any better and I applaud how well the staff kept this convention going, knowing how crazy it can get. What a great time it was, and hopefully more fans of anime in the Northeast and beyond will give it a chance to check it out. You will not be disappointed.
C.J Maffris is an editorial writer for Toonamifaithful.com. He's still surprised he made it out alive. Feel free to follow C.J on Twitter to talk all things anime and Toonami @SeaJayMaffris