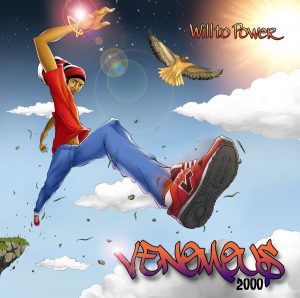 Here at Geek-E we always have artist who are interested in having us review their music, which we consider an honor that they would want us to even give it a listen. Enter we have Venomous2000 The Ultra Emcee and his album "Will To Power." I know as soon as I downloaded the album and heard the first track, I was transported to another realm of consciousness. The tone of the album is smooth, mellow and rich like when you take your first sip of Yamazaki 18.
It just puts you at ease and you want to savor the flavor that's coming into your ears for an audio experience that is transcendent. Venomous2000 lays it down with strong percussion, bass, strings and bluesy undertones with some jazzy improvisations to go along with the lyrics that are being spit like ammo from a Browning 1919 or Ma Deuce to us in the know! Venomous2000 has seriously embodied the spirit of hip hop in his music. There was not a dull moment when taking the time to listen to each track individually.
I definitely enjoyed the laid back chill tempo of "All You Need." It reminded me of the extraterrestrial stylings of Outkast when they dropped Atliens, a true hip hop classic in my opinion. The mastery and skill that Venomous drops in his delivery is S class and second to none. I liked the fact that tempo in the tracks were either upbeat or slowed down to fit the rhymes being delivered in each track.
This is definitely the way I remember rap growing up and bar none this album is gritty and in your face. I have to commend this artist on his use of scratching as well, something that tends to be lost with the current mainstream rappers who do not understand the importance of using all the elements of hip hop to bring the rawkus to the fans.
This album brought back so many memories back to me and the way the styles were switched up during delivery in Venomous2000 flow, I thought I was listening to Mobb Deep, Mosdef, Common, Onyx and The Roots because the musicianship was just top notch all the way through. Venomous2000 brings an element of nostalgia that we as a community starving for real music have been missing. We at Geek-E give Will To Power a 10 out of 10. It is a solid album that has soul and the artist remains true to the teachings of hip hop which is very prominent in Warriors Way. This album is definitely worth purchasing and being put into rotation on your playlist.
You can follow Venomous2000 on Twitter @Venomous2000 and like him on Facebook by clicking here. Use the player below to play and purchase the album.
[bandcamp width=100% height=120 album=2117845188 size=large bgcol=ffffff linkcol=0687f5 tracklist=false artwork=small]