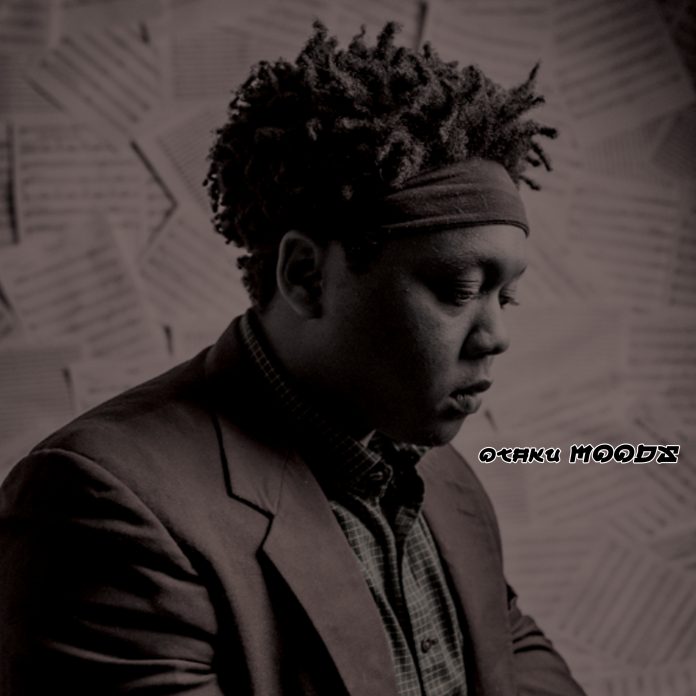 As a longtime fan of nerdcore rap and an aspiring artist, sometimes I just can't help but think "what goes on inside of these artist's heads? What inspires them? How do they separate themselves from being 'another typical nerdcore artist'?" Even though I know the answers to those questions lie within myself, I feel like I've come closer to finding them after listening to Otaku Moods. Only seven tracks long, Otaku Moods is a great, entertaining, and eye-opening introspective look into the mind of nerdcore veteran Kadesh Flow.
The EP opens up with the ambitious and boisterous "Droughts", where Kadesh wastes no time in telling you that you should "keep [him] on your mental" while smoothly dropping references to anime like Dragon Ball, Gundam, and One Piece. A total crowd-pleaser and easily my favorite track in the whole album, "Droughts" is a great marriage of braggadocious rap and nerdy stylings. "Party Thoughts," despite what you may infer from the title, is a more introspective and personal track surrounding his artistry. I was a bit caught off guard because of the abrupt switch from the first, upbeat track, and this more serious entry, but that didn't really detract from the experience. The subtle beat and haunting chorus from Jessica Paige round out this track for another solid tune.
The third track, "Planet Wreck," is probably this album's weakest track. A short and simple show-off rap atop a trap beat, "Planet Wreck" is over fairly quickly and somewhat forgettable. I probably won't repeat this one too much and the album might have been a little better off without it, but it's not a bad song by any means. Track number four, "Pavement," is a smooth and jazzy testament to Kadesh Flow's unwavering work ethic. The calming nature and the hook by Anna Challacombe give the track an honest edge that's reminiscent of some of my favorite LA rappers like The Grouch and Pigeon John. "About a Dream" is a perfect follow-up to the previous song. Coming after a song about "putting my feet to the pavement", "About a Dream" feels like a triumphant celebration of this "ambitious otaku". This song is pure hype, plain and simple. From the strong beat to the catchy hook, this track is guaranteed to get a crowd jumping.
"Picking Up" from where we left off, track six is another personal entry in Kadesh's musical diary. Ruminating over his past and recollecting bits and pieces of his journey to where he is now, "Picking Up" is probably the strongest out of all the real-talk tracks and one of the best songs in the entire project. The lyrical anecdotes and chill vibes formed by the production are further accentuated by the old school-esque hook by Atlas. The EP ends with a bang thanks to the fourth of the flex rap tracks, "Headbuster". Hard-hitting, combative, and aggressive, the final track is rife with rapid-fire delivery and relentless spitting that sent shivers down my spine.
Otaku Moods shines brightly on a technical level. The juxtaposition of many styles of hip-hop (old school, alternative, and even trap) with the numerous chiptune elements form a unique yet audibly pleasing sound. "Picking Up", "Pavement", and "About a Dream" are the standout tracks production-wise, and I found myself looping them just to soak in every element of the beats I could pick out. In terms of the vocal performances, Kadesh perfectly demonstrates that the "Flow" in his name is not just for show. Kadesh effortlessly executes a wide variety of stylings with immaculate precision. The lyricism is fantastic and smooth, with several anime references sprinkled in the right amounts without being too conspicuous or overbearing. The guest vocalists pour their hearts out and perfectly round out the tracks, achieving total congruence with the song's presented moods.
Otaku Moods is personal, hard-hitting, and a great look into the inner machinations of Kadesh Flow. Just about every track is solid and oozes with the unique and eccentric style Kadesh Flow is known for. The down-to-earth artistic expression that was put into this project really resonated with me. I felt every ounce of the emotions displayed here, and by the time it was over, I felt like a different person and more inspired than ever. I've never been close to dissatisfied with a Kadesh project, and this EP is no different.
OVERALL SCORE: 8/10
Give it a listen:
[bandcamp width=400 height=373 album=1820560526 size=large bgcol=333333 linkcol=2ebd35 artwork=small]
You can follow Kadesh Flow on Facebook, Twitter, YouTube, and Instagram! Also, don't forget to check out his music on Bandcamp, Soundcloud, and Spotify!