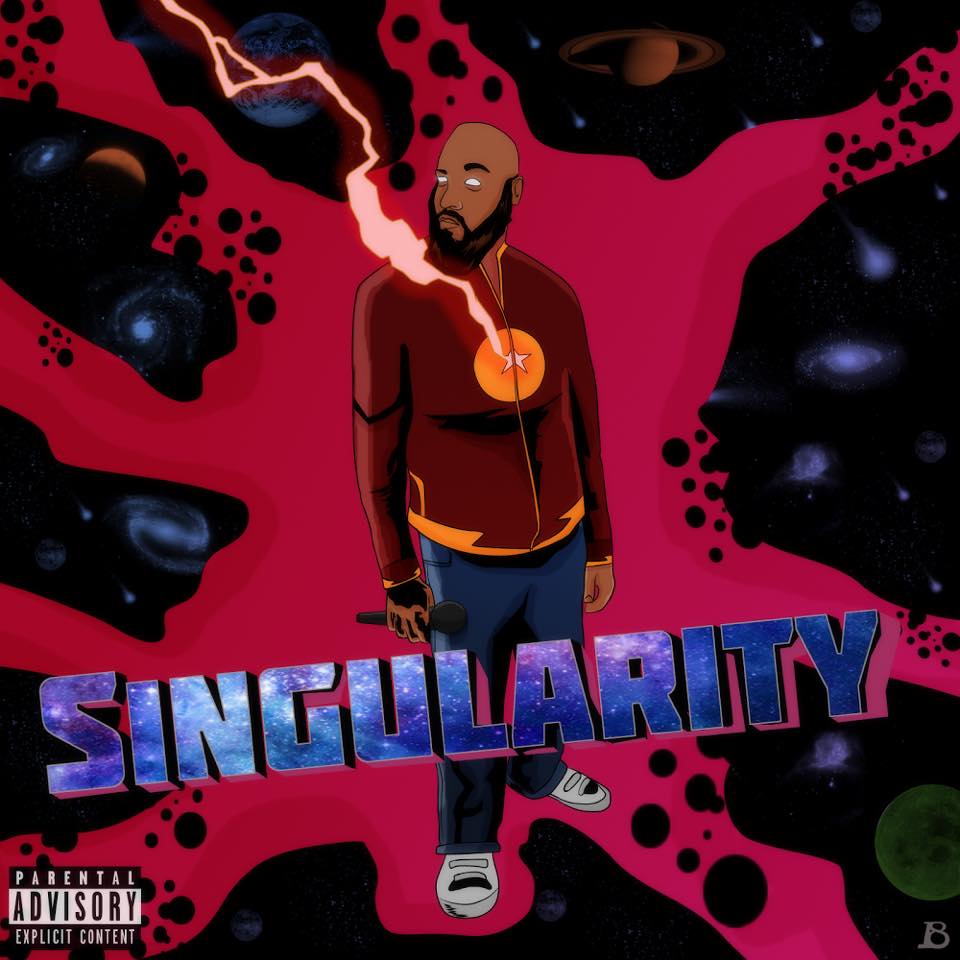 Yet again I get a chance to write a review on another nerdcore album that makes me grateful that I'm one of the writers for hip hop on this site. We have the emcee Jhony Allen West on this album titled Singularity and all I can say is he came out swinging like Deontay Wilder in the boxing ring. Every bar is nothing but a haymaker delivered to your auditory system. Ring the bell referee and down goes Frazier with these lyrical punches!
Jhony definitely has a unique style. Now being the quantum mechanics nerd that I am singularity is defined as a point at which a function takes an infinite value, especially in space-time when matter is infinitely dense, as at the center of a black hole. That's just how I felt when listening to Singularity. I was being pulled into a black hole of epic proportion that kept me nodding my head the whole time I was listening to it.
What can I say? Hip hop has been resurrected through nerdcore where the elements of hip hop have been ingrained into the artists who bring everything they have on the microphone and project that energy into the audience. I can say that Jhony made great use of bluesy undertones, snare riffs, 808s, soul and I was definitely feeling those jazzy notes that had some of that New Jack Swing swag to it. One thing I pride myself on is the fact my ears do not lie to me when it comes to what sounds pleasing to my auditory senses.
I definitely enjoyed the prologue The Journey Begins. It was a very fitting way to bring in some levity to introduce the artist and his style. I always enjoy artist who don't take themselves so serious, but still know how to deliver when the time comes. One of my favorite tracks on this album was Red Kryptonite. It had this Mobb Deep feel to it and the musicianship was spot on. I got this nostalgic feel when I first heard Survival of the Fittest. It had this presence that made you want to hear more of it. The second track that caught my attention was Learn How 2 Love with its use of Love Like You from Steven Universe. It has a serene feeling that can't do anything but make the listener smile.
You have my compliments Jhony and with that being said people go give this album a listen because I'm giving this album a Geek-E Inc Productions 8 out of 10. Jhony Allen West: I am looking forward to hearing more from you down the road.
You can hear and download this album by using the player below. You can also find out more about Jhony by following him on Twitter @JhonyAllenWest and also on Facebook by clicking here.