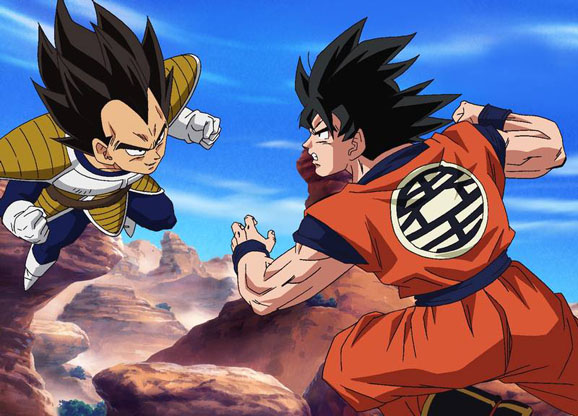 A recent Adult Swim schedule update shows the programming department has removed the FOX Sitcom Sit Down, Shut Up on Saturday and Sunday at 8PM. On Sunday they are replacing it with reruns of The WB Sitcom The Oblongs but on Saturday they are replacing it with encores of the most recent episodes of Dragon Ball Z Kai. DBZ Kai encores will be paired with reruns of Rick & Morty in the 8PM hour and air without Toonami packaging.
Toonami will continue to air new to the network episodes of DBZ Kai in the Midnight time slot.
We have a confirmation from Jason DeMarco here.
The schedule starting this Saturday is as follows:
8:00 PM – Dragon Ball Z Kai Encore
8:30 PM – Rick & Morty
9:00 PM – King of the Hill
9:30 PM – King of the Hill
10:00 PM – The Boondocks
10:30 PM – American Dad
11:00 PM – American Dad
11:30 PM – Family Guy
12:00 AM – Dragon Ball Z Kai
12:30 AM – KILL la KILL
1:00 AM – Naruto: Shippuden
1:30 AM – InuYasha: The Final Act
2:00 AM – Gurren Lagann
2:30 AM – One Piece
3:00 AM – Deadman Wonderland
3:30 AM – American Dad
4:00 AM – American Dad
4:30 AM – Rick & Morty
5:00 AM – King of the Hill
5:30 AM – King of the Hill
This marks the first time since October of 2008 in which an anime lead the Adult Swim Saturday line-up, the first time an anime other than maybe Pokemon has aired in prime time on The Cartoon Network since Toonami was cancelled in September of 2008 and the earliest an anime has ever aired on Adult Swim. Amusingly, it is also the original premiere time for the censored Nicktoons Network broadcast back in 2010.
Please tune in, tweet and show your support for Dragon Ball Z Kai at 8PM on Saturdays. While this may amount to nothing beyond an encore slot for DBZ, with enough support it could open up possibilities for more action aquisitions airing in the prime time hours of Adult Swim. It is my (Sketch's) personal opinion that this is a do or die moment for seeing action programming airing before 12AM again. If Dragon Ball Z Kai proves a dud in prime time, it's unlikely they'll try out any other action programming in those hours any time soon.
Here's a promo that Kevin and Jim cooked up for the occasion.