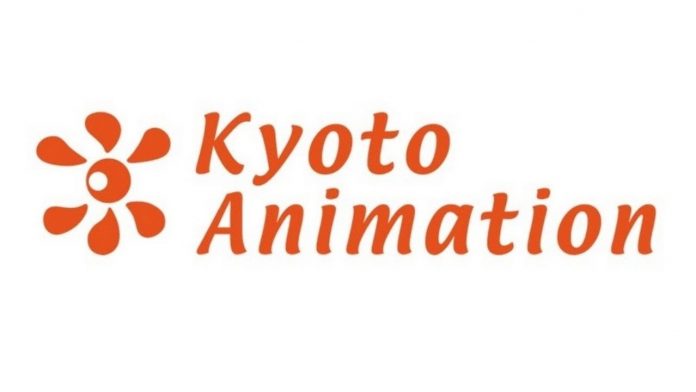 On Thursday, July 18, anime fans around the world were shocked when a fire blazed through Kyoto Animation. The fire tragically killed 33 and wounded dozens more. The anime community continues to be horrified and saddened by the event. Across social media and news outlets, expressions of grief are still pouring out from fans and various production studios alike.  
Kyo-Ani, as it is affectionately known by fans, has produced dozens of well-known series and films, including K-on!, A Silent Voice, Nichijou, Miss Kobayashi's Dragon Maid, and much more. In addition to being known for producing high-quality, fluid and detailed animation, the studio has been a progressive voice by hiring more women than any other studio, while offering their employees fair benefits and wages.  
We, the Toonami Faithful, join in the chorus of anime fans expressing our own sorrow from this tragedy. Inspired by the flood of Kyo-Ani fans, and our appreciation for the studio, the staff is paying tribute with a brief editorial on their favorite Kyo-Ani productions. While we cannot alleviate this loss, our show of gratitude and appreciation for the works of the studio will honor the memory of the lives lost. 
Kuro: Amagi Brilliant Park
For those who have not yet been fortunate enough to have seen it, Amagi Brilliant Park is a fun, often ridiculous and lighthearted comedy. The 12 episode series takes place at an amusement park where the characters thrive off the happiness of humans (Animus) vital to the livelihood of their world, Maple Land. An amalgam of silly magical creatures and dramatic humans make up the cast; from the tiny Princess Latifah, desperate to save her kingdom; a very Furmoffu-looking Moffle, who is comically combative with almost all the creatures; or the quirky fairies of the Elementario, a somewhat dysfunctional group of entertainers. The brilliant yet narcissistic Seiya is recruited to save the run-down and mismanaged park from closure, and does so with intense zeal and determination which is as heartwarming as it is adorably funny. 
While not an action epic or dramatic feature, Amagi is a beautifully constructed and colorful tale which holds a special place with me just for that reason. Our own day-to-day lives are hectic and weighed down by responsibilities and obligations, not to mention the deluge of depressing news every week. Sometimes you just need a break, and for me there was no better escape than to the lighthearted world of Amagi Park. Every episode was a series of comical shenanigans which delighted me, while distracting from the real world. Though I appreciate a good profound series, occasionally the most profound is what makes you smile and laugh.
Sketch: Sound! Euphonium 
As a student of music I am always delighted to come across an anime that centers around the lives of musicians. Back in 2015, I had seen plenty of anime about building a rock band or a small ensemble but none were all that relatable to my own experience with music. I decided to check out Sound! Euphonium because the story of a concert band seemed rather unique among other music focused anime. 
From the start, I was amused by Kumiko Oumae and her brutally honest critique of a performance from her new school's concert band. I fell in love with the primary cast before the first episode was over and knew I was in for the long haul. Sound! Euphonium beautifully encapsulated the experiences of many students. There were numerous moments that reminded me of my High School years in concert choir. While Kumiko might be my spirit animal, I found a kindred spirit in her upperclassmen Natsuki. The frustration of putting in hard work and watching your juniors pass you by, was all too familiar to me. Like Natsuki, I was able to accept my place as an auxiliary player but not without some growing pains. Sound! Euphonium brought back some painful memories, but it also reminded of the good times I shared with my choir mates and the thrill of performing together. The series use of gorgeous visuals and excellent orchestral music further enhanced the narrative and brought me to tears multiple times. I cannot recommend Sound! Euphonium enough and am grateful to KyoAni for sharing it with me.
CJ: Beyond the Boundary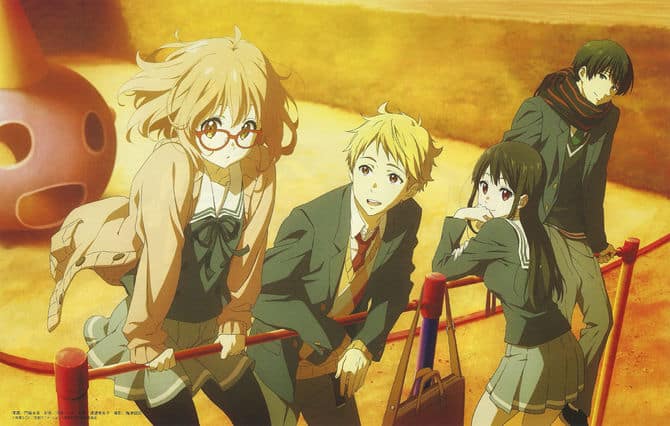 While it may not be the most well-known title Kyoto Animation has produced, Beyond the Boundary will always hold a special place in my heart. It's a series I happen to stumble upon during an AMV showing at Anime Boston. The quality of the animation was amazing and made it impossible to look away. I began researching all I could to figure out what the subject matter was. To my surprise, I found out it was an entire series (not a film) and could not wait to grab this title for myself. Finding out how Kyoto Animation's animation looked, I was pumped to see how a more action-centric series would play out.
The series follows two high school students Mirai Kuriyama and Akihito Kanbara. Akihito happens to be half Yōmu and half-human, while Mirai is a spirit world warrior who can use her blood as a weapon. Both our leads are living lives that should never have existed, and the two should never have met one another. Fate had other ideas, and the two embark on an adventure that shows how special both are.
What makes this series special are the characters and how meaningful they become. Our two leads do an excellent job portraying the struggles one might have with self-worth. Mirai especially takes issues with her lineage considering she can manipulate her blood as a weapon. Watching her growth specifically touched me, and it was only enhanced with the beauty of both static scenery shots and fluid action scenes. It was the action scenes that teased me to try it out, but the story and fantastic art throughout kept me invested. Beyond the Boundary does a great job of being able to portray emotions with how stunning the art is. And due to the subject matter, meaning a lot to me, it was a series I couldn't finish faster.
Varun Gupta: A Silent Voice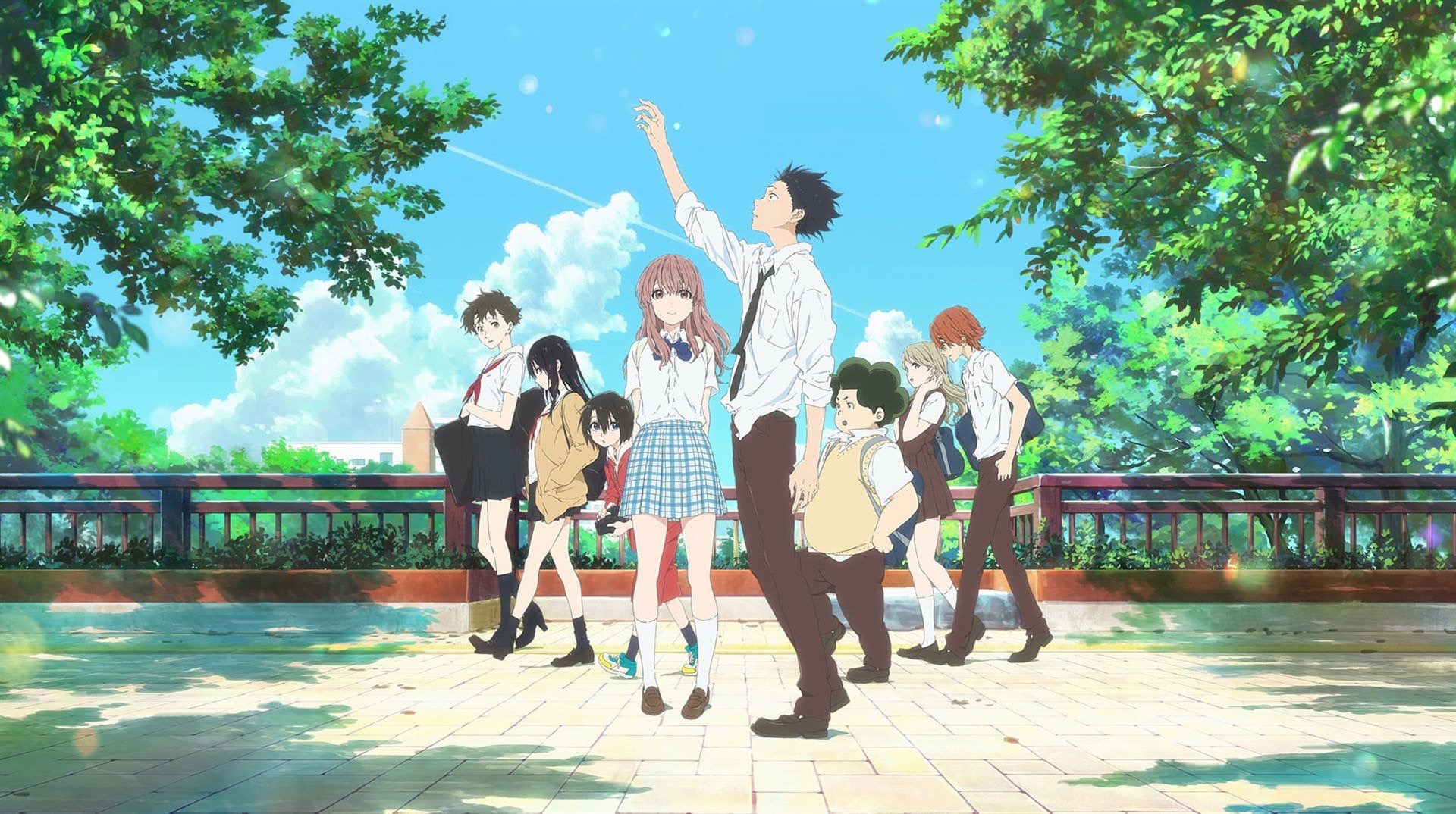 When dwelling on recent events, it's hard for me to not think about one of my favorite anime films of all time A Silent Voice. Based on Yoshitoki Oima's masterpiece manga, A Silent Voice is a coming of age story about a boy named Shoyo, who cruelly bullied his deaf classmate Shoko in elementary school. Having now entered high school and socially isolated himself, Shoyo decides to make amends with Shoko and befriend the person he wronged. Adapting a series of such sensitive subject matter into a single film was going to be a herculean task for any team, but the folks at Kyo-Ani were up for the challenge. Director Naoko Yamada and screenplay writer Reiko Yoshida truly understood Oima's core message, and re-framed it perfectly to fit the theatrical format.  
A Silent Voice excels at depicting the hardships that people experience in their daily lives. Whether it's bullying, depression, or disability, the film presents an unfiltered view on life's burdens. That being said, the story also tries to look beyond these struggles. Yamada showcases the beauty of the world at every opportunity, from its vast landscapes to its tiny insects. Even at our lowest point, the film wants us to value our lives and experience life to its fullest. After watching A Silent Voice countless times, I still find myself tearing up by the very end because of how powerful its themes are. It truly is a unique and emotionally moving piece of fiction, and I'm glad that it was able to reach a wider audience through this film. Thank you, Kyo-Ani.
Alien Renegade: Hyouka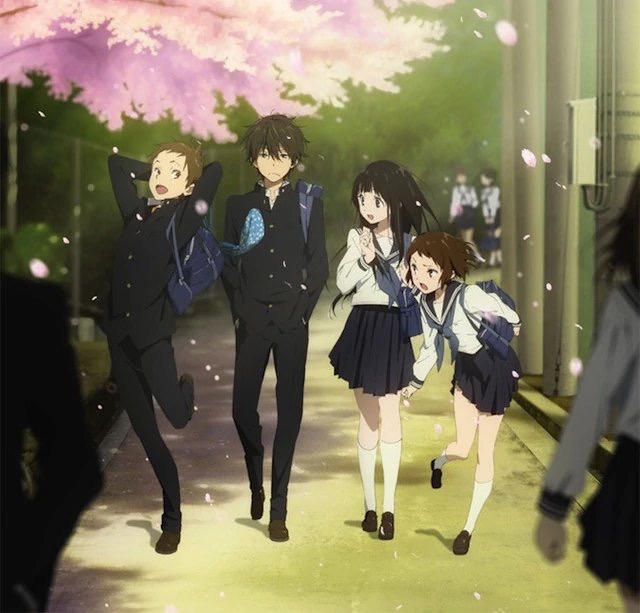 Being a veteran anime fan, I've witnessed many stories and gotten to know many characters. Throughout my time interacting with anime fans, I've seen them speak of how characters (Goku, Naruto, etc.) taught them important life lessons, like believing in yourself, or not giving up hope. I began to realize I never felt a personal attachment to a character before, and must be missing out on something. I was into anime because it looked cool and there were cute girls, but I didn't become personally attached to characters of a show until I watched the Kyoto Animation project Hyouka.
Hyouka follows the story of culture club members Houtarou Oreki, Eru Chitanda. Satoshi Fukube, and Mayaka Ibara as they solve various mysteries around their school while continuing their its legacy with creating yearly anthologies. I mainly checked it out because of loyalty to Kyoto Animation and the voices of Yuichi Nakamura and Daisuke Namikawa (Houtarou and Satoshi) who were cast as the two male leads for the first time since CLANNAD. I was unsure about the show, but the longer I watched, the more I fell in love with everything about it. Houtarou's trademark motto, "If I don't have to do it, I won't. If I have to, I'll make it quick" resonated with me. The first time I heard it, I finally felt that personal connection to a character, someone whom I fully understood. As I continued to watch, I found inklings of myself within every character: Eru's thirst for knowledge, Satoshi's easygoing attitude that hid a fear of the future, and Mayaka's snarky yet hard-working demeanor. Before I knew it, I was captivated by the antics of the culture club. Every Sunday was the highlight of my week for the entirety of its run. When it ended, it was probably the first time I felt sad and empty over completing a series. Hyouka helped me to open up to others more in one of my darkest times. Nothing can replace that feeling of closeness to those characters I felt, and I'm truly thankful that I was able to experience the culture club.

Just as each of us have been touched by Kyo-Ani productions, so has the anime community at large. Perhaps the most inspiring item to come out of this tragedy is how fans, voice actors, and production companies have all come together in support of Kyoto Animation. Sentai Filmworks started a Go Fund Me campaign to aid the fire victims and their families with its own hashtag- #HelpKyoAniHeal. Crunchyroll has been encouraging social media users to share a message of support, anything from well wishes, to photos of KyoAni products; and Funimation has been encouraging its followers to share their favorite shows. By sharing our grief, we have all become united in a way never before. We will continue to mourn the tragic loss of some talented artists and support the efforts of recovery for the survivors, unified through our love of anime.
Happy Kuro Kitty is a writer for Toonamifaithful.com. Feel free to follow Kuro on Twitter @HappyKuroKitty