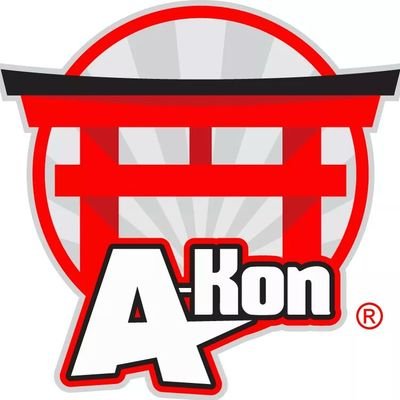 In case you weren't aware, I enjoy traveling to anime conventions. Sure, there's work for me to do when I go to these events, but I experience such joy getting these assignments. However, going to Convention A-Kon was a whole new level of excitement for me. It was my first time in Texas and first time at a major anime convention other than Anime Boston. I wasn't sure what to expect and how things would be handled. I was curious about how another major convention would be organized, and how fans would interact with one another. And I have come to one conclusion. For those who do live in Texas (or don't), I highly recommend checking this convention out.
The first thing I found surprising was how well the convention was organized, with it being in Fort Worth for the first time in its history. Before, this convention would be held in Dallas, but with  the number fans it has attracted, the staff at A-Kon felt a change of venue was needed. Now when you have  a new location there can be hiccups that prevent the event from going smoothly. However, at A-Kon, things moved along almost perfectly. There were a few issues that popped up, like a panel room changing or a later start time, but guests and attendees were able to get to where they needed to be quickly and without much trouble.
The venue itself (Fort Worth Convention Center) was vast and beautiful to look at from the outside. It was easy to move from room to room and had enough space to accommodate long lines (which I found surprising, considering how small and congested it looked on the second floor). What caught me off guard was how you could enter at a multitude of doors/hallways without much security. Unlike what anime fans deal with in Boston, there weren't any metal detectors or security at every door. It left me feeling surprised, but I prefer that over the long security lines I've experienced at Anime Boston.
As far as A-Kon itself, I had a blast and was able to enjoy myself a lot more than I normally do. With all the guests they had, a lot of different panels were available for fans. For me, one of the best panels of the entire weekend was the Keijo Panel. The main cast as well as ADR Director Clifford Chapin performed real life Keijo and even had fans get in on the fun as well! It left me in stitches and I wished it went on longer than it did. Erica Mendez also brought in a few of her voice acting friends in a "Let's Draw" panel, where the panelists got to show off their artistic ability. Of course, panelists had to draw a character they voice and give directions to everyone on how to draw said characters. I never thought I'd want to see a kawaii Bakugo, but I did (and it was awesome).
#Keijo panel highlights! 🍑🍑🍑 #buttwalk @CliffordChapin @AmberLeeConnors @AKon_Convention pic.twitter.com/f0CMsvz8K9

— Jad Saxton (@jadbsaxton) June 10, 2017
The convention also offered a lot of 18+ panels, where voice actors were able to say whatever they felt like as well. I highly recommend going to some of these panels if you can, because some of the stories are hard to believe. But you get to see a side of the actors that you normally don't get to see, which made the convention experience much more enjoyable and memorable.
A-Kon also seems to offer a lot when it comes to cosplay. One of their biggest draws was the cosplay contest. Sadly, Toonami Faithful wasn't able to make it due to other commitments, but it went on for three hours, making me believe it must have been a roaring good time. Other significant events included a Lip Sync battle that had a large group of guests perform raunchy Shakespeare with Austin Tindle, and a Critical Role panel (which had to be moved to a bigger room due to how many attendees wanted to go to that panel).
A-Kon 28 Cosplay Roundup (@AKon_Convention) #akon28 #akon #akon2017

✨ Check out the images ➟ https://t.co/0z6OGDYOEE pic.twitter.com/Pjy41ztOln

— 🍡 Yatta-Tachi (@YattaTachi) June 14, 2017
What also surprised me were the few news reports that came from the convention. Knowing how big A-Kon is, I thought there would have been a lot more surprise announcements. Sentai Filmworks only came out to tell fans that they plan to produce an English dub for Flying Witch. A lot of Aniplex of America's announcements were about things that were coming to Anime Expo (such as the English dub for Fate Grand Order and the movie premiere of The Irregular at Magic High School). Again, fans at A-Kon were able to hear it first, but it wasn't as if A-Kon was able to view any of the announcements. It'd be fun if fans could have gotten a clip of the dub of Fate Grand Order, considering fans were treated to a new clip of Owarimonogatari. I was expecting a little more meat in the news department, but I was content with what was announced.
Fate Grand Order English Dub! Premiering at Anime Expo! #AniplexPanel pic.twitter.com/UchWL33Aun

— CJ Maffris (@SeaJayMaffris) June 10, 2017
Picture for confirmation. pic.twitter.com/bKmpkSXAnp

— CJ Maffris (@SeaJayMaffris) June 11, 2017
Toonami Faithful also got the chance to see the first two English dub episodes of Blue Exorcist Kyoto Saga and I was pretty impressed with what we saw and heard. I'm disappointed that Toonami will not get the chance to premiere this dub, considering how popular the franchise is. Hulu has to feel confident about them getting this dub exclusively on their service. And speaking of Hulu, I certainly found them to be the big winners from A-Kon after Aniplex of America announced that the English dubs for Erased, The Asterisk Wars, and Charlotte will be on Hulu. This piece of news certainly dampens the whole "Hulu hates anime" narrative that fans were spreading when Hulu dropped a ton of their anime titles. It looks as if they are going for big name anime that could potentially bring in a broader audience, with Erased easily being the headliner of that trio.
There's a @BlueExorcistUSA : Kyoto dub screening at @AKon_Convention today! I wonder if @johnnyyongbosch & @kylehebert will go…? pic.twitter.com/RnDAhanr8A

— Alex von David (@alexvondavid) June 11, 2017
Toonami Faithful was able to get a chance to conduct three interviews at A-Kon. We were able to talk with Jad Saxton, Matthew Mercer, and Alexis Tipton. While the number of interviews were a bit on the short side, it was an absolute pleasure to get to talk with the guests we had. In fact, with how busy everyone was, I'm shocked we were even able to get three. Guests at A-Kon seem to have a lot on their plates, and it was good to at least have the chance to talk with some of them. The biggest takeaway from those interviews was when Alexis Tipton informed us that FUNimation is trying to get Puzzle and Dragons on television. Not necessarily on Toonami (due to its target audience), but anywhere on television for a younger audience to watch. This shows how companies like FUNimation still like to have their titles on television, despite what some might say about streaming services taking over. So while streaming services are massively popular among anime fans, there is still value in getting an anime series on television.
Speaking of Toonami, there weren't any news items, announcements, or anything else involving the block (which I expected). The only announcement that is tangentially related to Toonami is that Aniplex of America will release a 10-year anniversary box set of Gurren Lagann. It's not as if they said they'd travel to that convention, but you never know if something might get reported. So while Toonami wasn't there to partake in the festivities, there was plenty to offer from A-Kon.
@AKon_Convention is over. I'm exhausted. I spent too much money. My feet hurt. My voice is cracking.

AKA – It was pretty epic.

— Kristen McGuire (@KrisComics) June 12, 2017
Overall, I found this convention to be as much fun as I thought it would be. There were a ton of panels offered to all kinds of fans, whether it be anime, video games, card games, etc. It certainly felt as if the cosplay world loves coming to A-Kon and they were out in full force. The industry panels had info for press members, and the convention ran as smooth as you can expect for a convention that size. As to whether I would go and visit again, that should be obvious. A-Kon was such a fantastic time and I would implore any anime fans in the area (or those who like to travel) to check out this convention and experience the fun.
C.J Maffris is an editorial writer for Toonamifaithful.com. He wishes he could go to conventions every weekend and already misses A-Kon. Feel free to follow C.J on Twitter to talk all things Toonami and anime @SeaJayMaffris