Often a significant knock on anime films is that many on the outside view them as something for kids. In their eyes, it's always similar to what people see in Dragon Ball Z or Pokémon, which leaves so many wonderful films with less of an audience. Enter, Goodbye, Don Glees!, which should quell anyone who defines anime movies as something for children. Have you ever felt like an outcast among your peers? The pressure of your family's expectations? How about a sense of longing for something that always seems just out of reach? This film will probably speak to your experience and encourage you to step out of your comfort zone. It hits all the right notes and is something I think many could compare to a full-length T.O.M speech, and one I cannot recommend more for Toonami fans!
The new film from Atsuko Ishizuka, the director of A Place Further than the Universe, feels cut from the same cloth as that series but offers a more condensed story and a male trio rather than a female quad. Rōma Kamogawa and Hokuto "Toto" Mitarai are a pair of social outsiders who go by the name The Don Glees. Toto went to Tokyo to study to become a doctor while Rōma stayed in the countryside with his aunt and uncle. When Toto returns home for the summer, he's introduced to Rōma's new friend, the eccentric Shizuku Sakuma, who goes by the name Drop. Immediately Toto finds himself at odds with Drop and does not like how he encourages Rōma to do reckless things. One of those reckless things happens to be spending his life savings on a flying drone that they can use to capture up-close footage of the local fireworks show. After they lose the drone and then are blamed for a wildfire caused by their own fireworks, Drop suggests the footage from the drone could prove their innocence. Toto is begrudgingly convinced to go with them deep into the mountain woods to find the drone. Together they share a life-changing experience as their friendship is tested on a dangerous journey.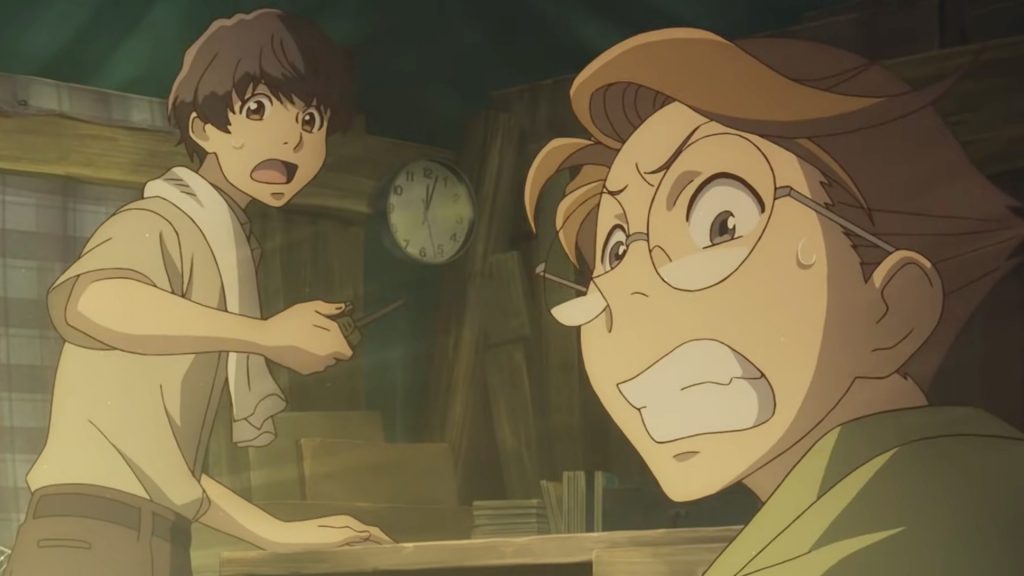 Rōma, Toto, and Drop each begin this adventure with vastly different perspectives on life. Each deals with a different kind of isolation and a sense of dread for the future. Goodbye, Don Glees! takes the time to explore their inner turmoil and show how they all grow from their collective experience. The film constantly reinforces the importance of taking chances and stepping beyond your limits. Rōma feels like his best friend left him behind while Toto is finding life in Tokyo isn't what he expected, creating tension between the once close buddies. It's something that many can relate to when you travel for long periods of time and relationships change. Much like for students who go to different states for college, Toto and Rōma feel like they are getting to know each other for the first time again (which makes them both feel a tad awkward). And adding more to this volatile rekindling, Drop falls into their lives and shakes everything up, offering wisdom from his experience, but some things he says give Rōma and Toto a sense that Drop is hiding something from them creating a dynamic where all three young men are learning more about each other.
In the end, it offers a powerful message about valuing each new experience and the time you spend with your friends and finding your own treasure. In its relatively short run-time, you will feel like you understand these young men and grow to cherish them. You witness their ideologies clash, and their internal conflicts bubble over. You see their strengths and vulnerabilities and how they deeply care for each other. And you watch how this adventure in the mountains changes the trajectory of their lives. Much of what sells for any anime film or series that doesn't involve fighting, power levels, and special abilities, is how effective it is at conveying real feelings that hit an emotional chord. And due to the subject matter of Goodbye, Don Gleese!, you'll be impressed at how realistic it feels.
Its greatest shortcoming as a story is that a significant part of the film feels overly condensed despite its grand scope and potential for more delightful character interactions. Taking more time for that would have been appreciated, but as it is, it still serves its narrative purpose. But that's the only nitpick I have in what I describe as an amazing film to watch.
Overall, it is a visually stunning film, between the incredible backdrops and set pieces making every scene pop out and feel remarkable. The character animation is playful and expressive, giving everyone a personality that is palpable to viewers. It has a crisp, clean look throughout and excellent use of color that continued to stay aesthetically pleasing in the entire film. Some moments will be greatly enhanced by experiencing them on a big screen, making it a must-see for fans who enjoy seeing anime at the theater. The score composed by Yoshiaki Fujisawa helps set the tone for every scene, and there are certainly some "bops" mixed in, giving Goodbye, Don Glees! the complete package when it comes to a film.
The dub directed by Cherami Leigh and Laura Stahl recorded at NYAV Post is also top-notch. Adam McArthur, Jonathan Leon, and Nick Wolfhard perfectly embody Rōma, Drop, and Toto with performances that express the boys' complicated emotions and camaraderie. McArthur delivers Rōma's dorky optimism while Wolfhard stresses Toto's high-strung attitude. Leon as Drop feels like a wise sage living inside a laid-back teenager. And it's important to view the main trio positively since we focus on them for the entire film. Everyone was strong in their performances and cannot stress enough how well the English staff was. I was blown away and hope that more anime fans will find some time to hear some amazing acting. Not only were the actors great, but the direction they received is top-notch and feels like a flex of NYAV Post considering how powerful their English dubs tend to be.
Atsuko Ishizuka has once again crafted a beautiful story about going on a journey to a real place full of natural wonders. It features characters that are almost painfully real, written like actual teenagers. It nailed the good friends who don't always see eye to eye and sometimes fight but will never turn their backs on each other vibe, creating a sense of belonging and bonding that I believe many will appreciate seeing in this film. It is hilarious, heartfelt, and inspiring. I'm grateful to GKIDS for bringing it stateside. Make sure you go see one of the limited screenings if you can, and maybe you'll find some strength to try something new out of your element that you'll never regret.
Rating 9/10
Goodbye, Don Glees! is available for limited showings in English and in Japanese on September 18th and 20th, presented by GKIDS
Andrew "Sketch" Hingson is the COO of Toonami Faithful and has been one of the leading voices for Toonami all over the internet. Feel free to follow Sketch on Twitter @Sketch1984
Don't forget to listen to the Toonami Faithful Podcast, the best podcast to stay up to date on all things Toonami, and hear the best commentary about the block you won't find anywhere else.