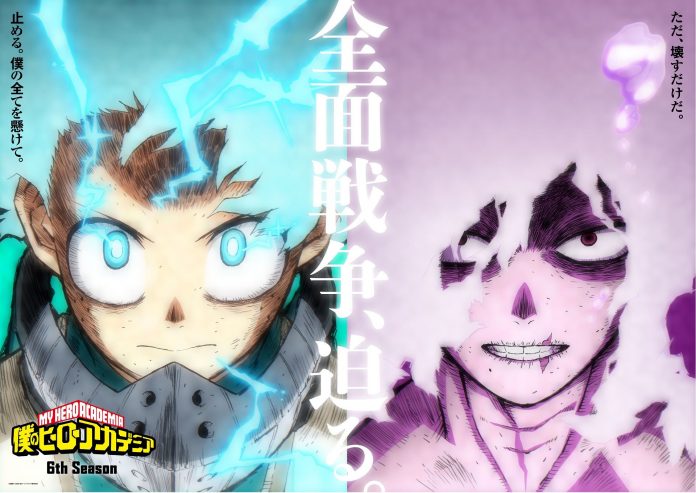 Never fear, Toonami fans, a new season of My Hero Academia will be joining the block after what has felt like weeks of speculation. Starting Dec. 3 at midnight, the latest season of the hit superhero series will return for its sixth season, which should have plenty of fans talking in the coming weeks!
Many fans have wondered, with the encore run of the last three episodes of the fifth season and the Thanksgiving marathon, if the newest season would ultimately find its way on the block. It is especially encouraging to see since My Hero Academia is licensed by FUNimation and Sony, who haven't been the best to work with in terms of finalizing deals to air on Toonami (if they even discuss with them at all). However, this should be a welcomed sign that some of Sony's catalog can find a way to broadcast on Adult Swim. Maybe it has something to do with the fact that the previous five seasons have been on Toonami, but that isn't always a sure thing considering that the second season of both Mob Psycho 100 and Demon Slayer haven't had the chance to return.
But for now the schedule will look like this for the foreseeable with My Hero Academia leading the charge at midnight followed by the second season of Made in Abyss at 12:30 a.m. The rest of schedule is as follows which you can see on Toonami's Facebook page:
12 AM – My Hero Academia
12:30 AM – Made in Abyss
1 AM – Yashahime: Princess Half-Demon
1:30 AM – One Piece
2 AM – Naruto Shippuden
2:30 AM – Primal
This latest change has been welcomed news for Toonami fans who haven't felt as excellent regarding the block's health. More opportunities are out there, possibly in places right before our eyes. While we can't expect EVERY series from FUNimation to air on the block (unlike in years past), this development is precisely the jump boost fans should be celebrating. Especially now since fans will see the fallout from Shigaraki becoming the newest leader of the Paranormal Liberation Front, leaving everyone on a massive cliffhanger for what will be coming Deku's way. In fact, our very own staff writer Umeko Long wrote a preview piece for Anime News Network to get fans readied for the setup for a tumultuous season when it premiered in Japan.
How do you feel about My Hero Academia's sixth season joining Toonami? Could this be a precursor for other FUNimation titles to join Toonami? Tell us what you think in the comment section below or our social media pages!
Don't forget to listen to the Toonami Faithful Podcast, the best podcast to stay up to date with all things Toonami and hear the best commentary about the block you won't find anywhere else.