Anime Expo (AX) is one of the largest and longest-running anime conventions in the United States. Since its inception over 30 years ago, AX has grown into a juggernaut event that allows attendees to shop for anime goods, connect with other fans, and see their favorite creators in action. This year's AX was no exception when thousands of attendees flocked to the Los Angeles Convention Center after a two-year break during the COVID-19 pandemic. Thankfully, I could attend this year (safely) and figured I'd provide a small report for Toonami Faithful as a guest writer, so their fans can see what they might have missed or want to check out if they had been at the convention themselves.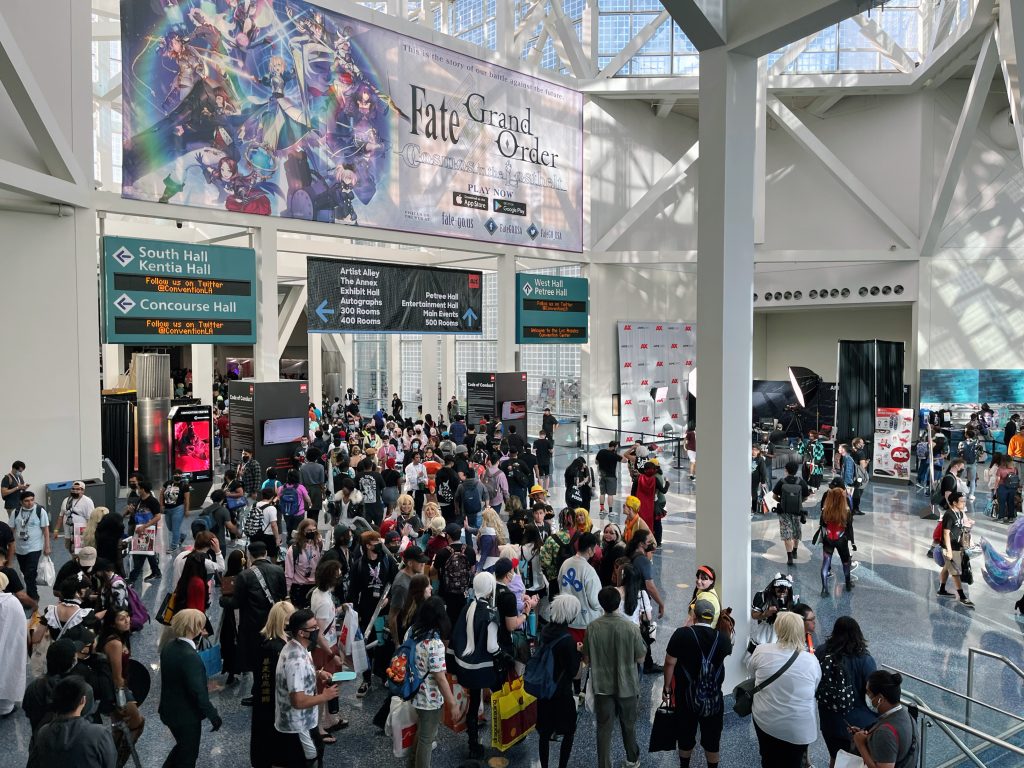 Anime Expo implemented new health and safety policies this year by requiring attendees to wear masks indoors and present proof of vaccination via a convention-issued wristband for entry. However, these new requirements weren't without their share of problems. Mere weeks before the convention, AX announced that proof of vaccination would no longer be required for entry, causing a massive uproar. The decision was not a huge surprise–other conventions like Anime Central also rolled back their COVID precaution policies, but it caused such a stir online that AX staff reinstated the requirement within 24 hours. The wait to receive the wristband on-site indicating proof of vaccination lasted at least one hour, sometimes longer during the first two days of the convention. As for the mask requirement, it seemed only to be enforced for programming spaces. Even then, attendees could remove their masks in said spaces without consequence. The inconsistent enforcement of masks at Anime Expo could be caused by compliance with current Los Angeles county guidelines, a low ratio of AX staff & volunteers to attendees that makes enforcement difficult, or a combination of the two. The reality is that–though people are willing to risk COVID-19 infection by attending a large event as I did–health and safety precautions are invaluable for gatherings of this scale so that people can still have fun while keeping the spread of infection lower than if there were no precautions at all.
Several Toonami titles had a presence at Anime Expo this year. Fans celebrated the 10th anniversary of the Sword Art Online anime with special displays at booths in the exhibitor and entertainment halls, as well as a panel hosted by Bryce Papenbrook (Kirito Kirigaya), Cherami Leigh (Asuna Yuuki), and several special guests. Another juggernaut Aniplex title celebrated its anniversary at this year's Anime Expo. Demon Slayer producer Yuma Takahashi and voice actor Natsuki Hanae (Tanjiro Kamado) hosted a panel celebrating the anime's 3rd anniversary and shared excitement for the next season with a trailer teasing the highly-anticipated Swordsmith Village arc.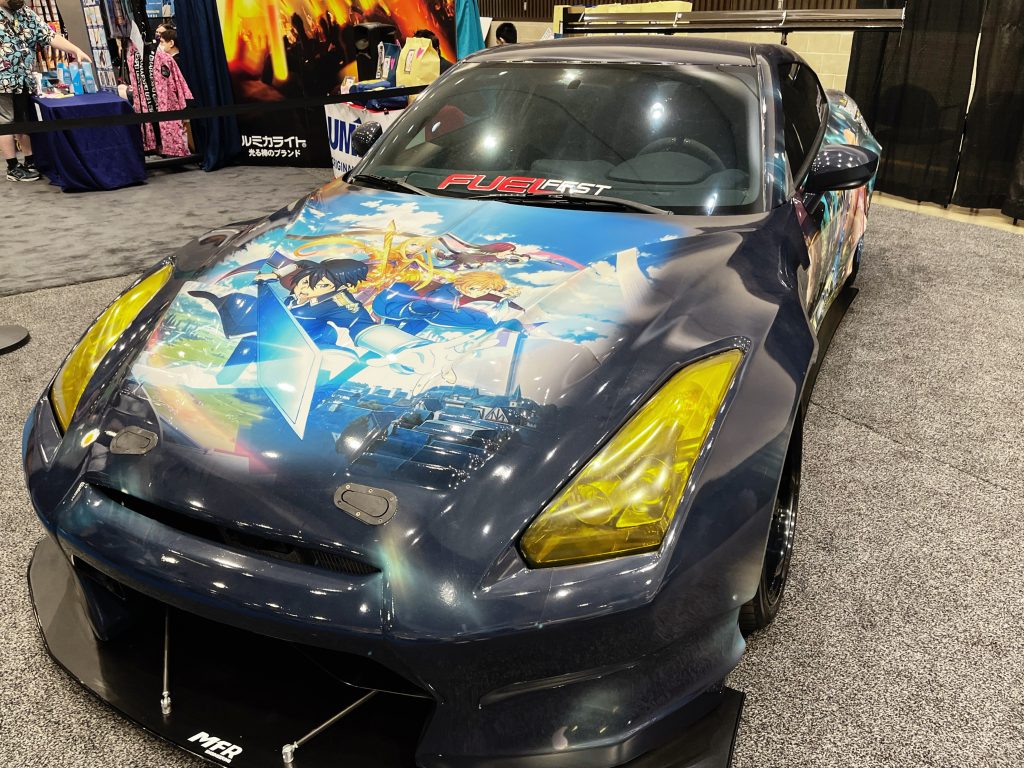 In case you missed it, BLEACH is returning with an adaptation of the Thousand Year Blood-War in the manga of the same name. The new season is scheduled to premiere on Japanese TV and simulcast streaming in October. Fans were treated to a first look at the arc's key visual art and a new trailer at a panel hosted by VIZ Media, voice actress Michelle Ruff (Rukia Kuchiki), and voice actor Dan Woren (Byakuya Kuchiki). The panel featured video messages from Japanese cast members Noriaki Sugiyama (Uryu Ishida) and Masakazu Morita (Ichigo Kurosaki); Johnny Young Bosch (English voice of Ichigo); and BLEACH's creator Tite Kubo, who shared some battles in the upcoming season were not featured in the manga due to schedule restraints at the time he was working on this particular arc.
However, the title with the most prominent presence was Eiichiro Oda's long-running epic One Piece. A giant inflatable Luffy statue greeted attendees at the South Lobby entrance, followed by a full-scale Thousand Sunny at the Bandai Namco booth by the front of the exhibitor's hall. Inside the Sunny, fans were treated to a display of One Piece manga and goods, including a first look at the new tabletop card game One Piece: the Card Game and the video game One Piece: Odyssey, launching later this year. The booth also featured a large screen running trailers for the franchise's latest film, One Piece Film: Red, where the Straw Hats visit Elegia to see world-famous songstress Uta live in concert. Producer Shinji Shimizu, ADR director Anthony Bowling, and voice actors Ian Sinclair (Brook) and Brandon Potter (Shanks) discussed the new movie's production at the One Piece: Film Red panel and also what fans can expect when it premieres in select theaters this October. Lastly, Toei Animation partnered with music producer Steve Aoki for an exclusive concert at the Novo Theater to celebrate the film's upcoming release, where guests enjoyed One Piece-themed decor and menu items.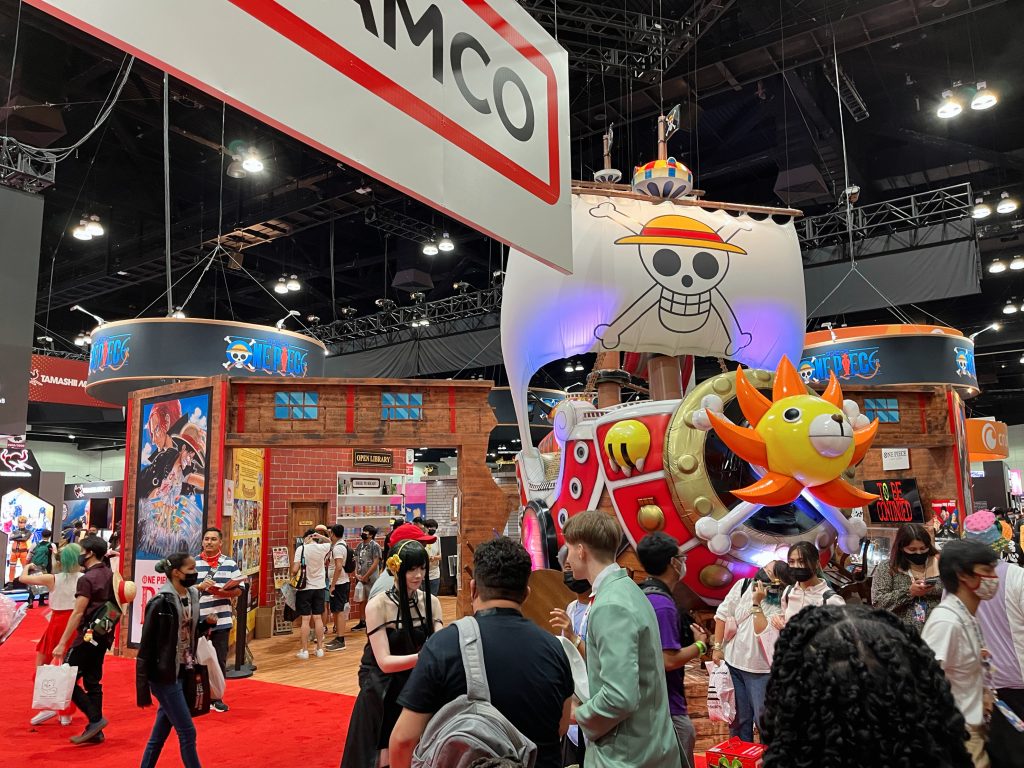 The most surprising news at Anime Expo came from the BIGWEST industry panel, where the Japanese production company made several announcements regarding the Macross franchise. Representatives from Creative Sphere Inc., Rightstuf, and Anime Limited revealed that several Macross series–Macross II, Plus, Frontier, and Delta–will be released on Blu-ray internationally through Animeigo, Anime Limited, and Nozomi Entertainment for the first time. Bandai Namco showcased collectibles from their Proplica, DX Chogokin, and Hi-Metal R toy lines that will be the first Macross toys available through international retailers. Later, Rightstuf staff announced at their panel that Nozomi Entertainment will release the entirety of Macross 7 on Blu-ray in two ultra-boxed sets. Toonami viewers may be familiar with Macross through Robotech: the Macross Saga, which edited the original Super Dimension Fortress Macross anime for broadcast in 1985 and aired on Toonami in 1998. The Harmony Gold Robotech panel showcased merchandise, games, and home video releases from the past two years. Harmony Gold also announced a new line of model cars by Jada Toys, each decorated in the livery associated with pilots from The Macross Saga. Fans could see prototypes of the upcoming models at the Jada Toys booth and a full-size Toyota Supra wrapped in the same livery as the Roy Focker toy Supra on display.
Some aspects of Anime Expo remained the same: a star-studded guest list; flashy displays in the exhibitor's and entertainment halls; and a wealth of programming options. Japanese industry guests included character designer Shigeto Koyama (SSSS.Gridman), animator/director Yoh Yoshinari (Tengen Toppa Gurren Lagann), Trigun creator Yasuhiro Nightow, and mechanical designer/illustrator Mika Akitaka (Gundam 0080: War in the Pocket). The latter designed Anime Expo's mascot MAX in 1999 and illustrated an updated version of her for the 2022 program booklet and merchandise. Social media influencers and personalities had a robust presence at AX compared to previous years. Some were billed as marquee guests, like the hosts of the GeeX+ YouTube podcast "Trash Taste." Others came as guests hosted by exhibitors or made appearances for convention programming, like Ironmouse and KSON from the virtual YouTuber agency VShojo.
Other returning aspects of AX became apparent during the event, though not in a pleasant manner. Official attendance numbers have not yet been made available for 2022, but I observed during all four days that attendance seemed to be lower than in previous years that I have attended, especially on the last day of the convention. Yet, despite seeming to have fewer attendees than usual, the flow of foot traffic in and around the convention center made getting from one area to another very difficult. Crowd management was so poor on the first day that the Los Angeles County Fire Marshall halted attendee entrance to AX within an hour of opening (as reported by Anime News Network). The Artist Alley in Kentia Hall suffered from severe overcrowding and poor air circulation. The number of people in the Artist Ally aisles made stopping to look at a booth nearly impossible, let alone to make a purchase. If the space needed to be evacuated for an emergency, there was very little chance that people would be able to get out safely without getting stuck or trampled. The room was more humid and hot than other rooms in the convention center. Imagine breathing warm wet air; that's how uncomfortable it was. According to an attendee's viral tweets, the carbon dioxide levels in Kentia Hall were extraordinarily high and approaching unsafe levels.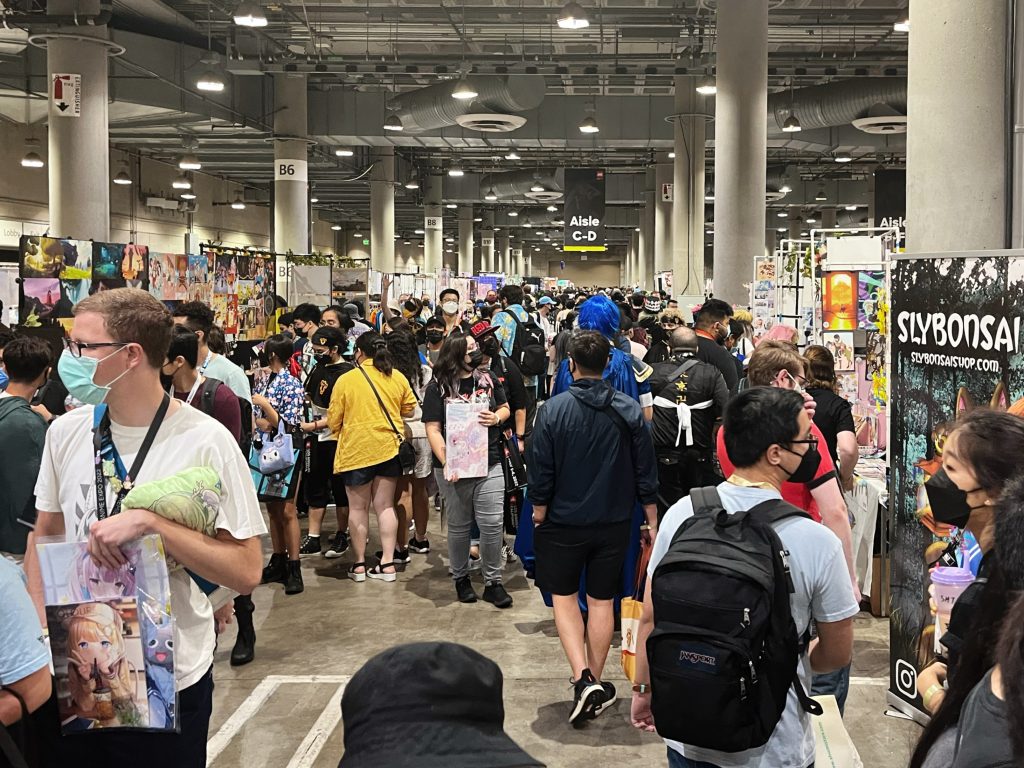 The spaces outside the Los Angeles Convention Center were no better. Sidewalks outside the convention were just as crowded as indoor walkways, with foot traffic flowing in multiple directions at once. Convention center staff and private security staff attempted to manage traffic at entry points throughout the event but often yelled at attendees. Professional and accessibility badge holder entry points were not clearly marked like in previous years. Street food vendors are not a new occurrence at AX, but this year many vendors occupied the walkways around the convention center, reducing the space to walk by half. This situation presented accessibility and safety hazards, where attendees could potentially come into contact with hot cooking surfaces or sharp tools, and vendors could be at risk of damage to their property or injuries from people walking into their carts.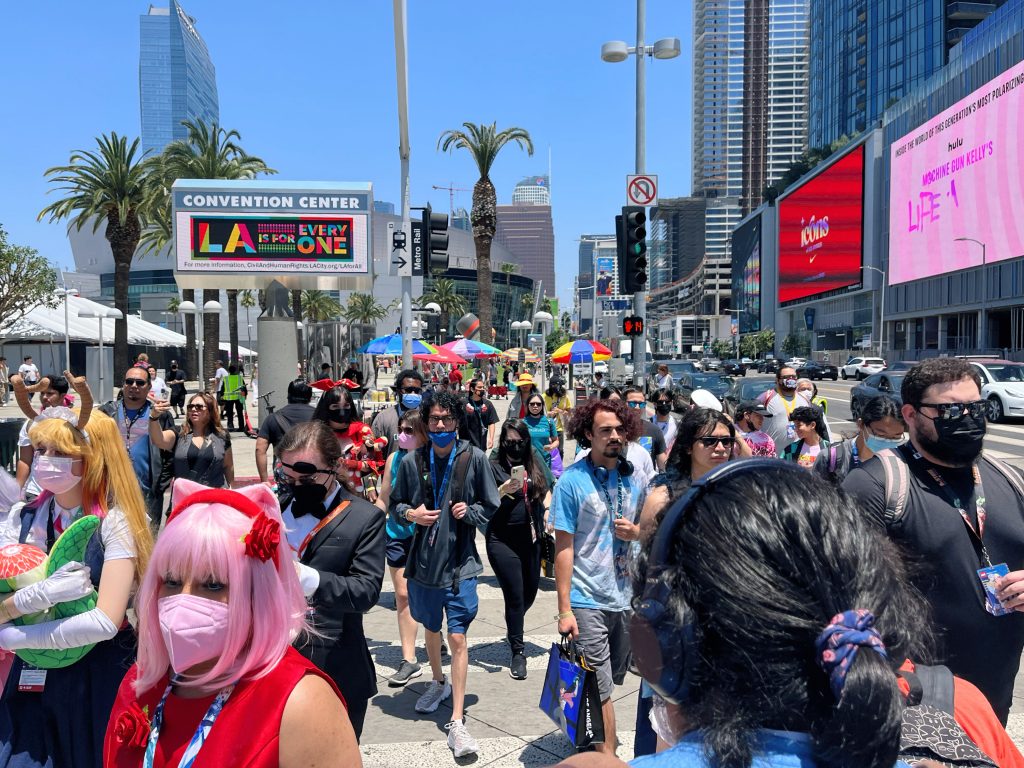 Overall, Anime Expo seemed to be business as usual, down to the same problems that seem to persist year after year. From my experience staffing at (much smaller) events, I understand that running a convention, especially one as large as AX, is not easy. Sometimes the best-laid plans don't go smoothly, or completely fall apart, and staff must devise a solution on the spot. Still, I would like to see the recurring issues addressed by making changes at AX to ensure that those problems are at least minimized, if not resolved entirely. Maybe the second edition of AX 2022 at the Anaheim Convention Center later this year is meant to alleviate overcrowding and accommodate a future attendance cap? Only time will tell. Despite my criticisms, I enjoyed Anime Expo. It was tiring, and my feet hurt almost every day from all the walking, but it also felt good to be back at a convention after three years. I swore off cosplaying at AX in 2015 because of the heat and crowds, but seeing people in their costumes made me want to dress up again. I loved seeing my old friends in person and making new ones. Spending time with those most important to me amidst the convention chaos made my Anime Expo experience a fond memory. And I am looking forward to doing it all again in 2023.
Celia Rose is a guest contributor to ToonamiFaithful.com. Follow her on Twitter @plantstwinkle for posts about anime, cosplay, and gacha salt.
Don't forget to listen to the Toonami Faithful Podcast, the best place to stay up to date on all things Toonami and hear the best commentary about the block around!